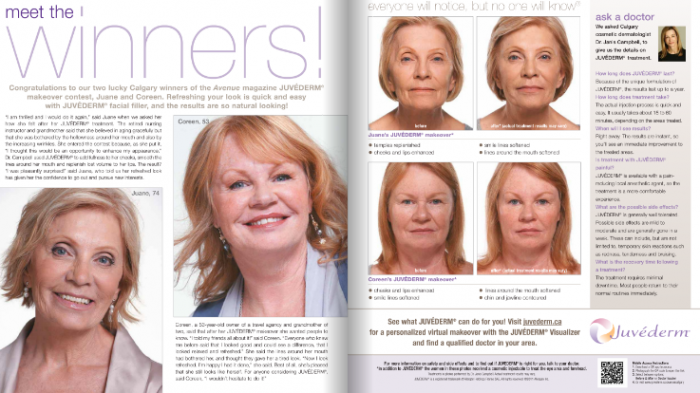 A few months ago, I had the chance to attend a photoshoot for some makeover contest winners.  These ladies had entered a contest with Avenue Magazine in Calgary, to win the makeover of a lifetime.  They were all women who wanted a change, and would receive Juvederm, and Botox to make them look… better. I don't say that they would look younger, because that sends the wrong message.  When someone says they want to look younger I think of Bruce Jenner from Keeping Up With the Kardashians and how he looks freakishly young.  No. These injectables make people look better – like they have amazing genes that are helping them age ultra-gracefully.  Like they vacation for 6 months of the year, and follow a healthy diet, and get 8 hours of sleep everyday.  Each of the women I met looked their age… but in the way that Jane Fonda looks her age.  Glamourous, fresh, and wonderfully alive.
Before I go on, a word about Juvederm and Botox.  Botox is the product that everyone is familiar with.  For cosmetic applications, it is used to freeze the muscles that make wrinkles.  If you pinch your eyebrow muscles together and get wrinkles there, a bit of Botox can relax the muscles so that they're not frozen in that pinching state causing the wrinkles.  Once the muscles are relaxed and frozen that way, your wrinkles just disappear.  Botox lasts about 3-6 months at which point you may wish to maintain the effect of it by getting more.  Botox can also be used to treat TMJ and excessive sweating, and for either of those uses, one would need to visit a family doctor and get a prescription for Botox.
Juvederm, on the other hand, is a filler.  It is made of hyaluronic acid which is a naturally found substance in the body.  Thus, it's safe to inject under the skin and doesn't carry any of the risks that silicone or another unnatural substance might. Because it's natural, it eventually gets absorbed into the body and after about a year, one may need more injected to maintain its effects.  It's commonly used to plump up cheeks and fill lips, making sagging skin a thing of the past.
Both Botox and Juvederm MUST be injected by a medical doctor BY LAW.
As we all know, getting older is a part of life, but according to the Face Institute most women (in fact, 9 in 10) don't actually want to look older.  That said, only 25% of women is open to having injectable treatments, with uncertainty about safety, cost, and the results being the top three reasons that women would not get an injectable treatment.
That being said, the women I spoke to on the day of the shoot wanted what they call a "soft" face lift.  They call it "soft" because there's no cutting open the skin.  Only injections are used to the parts of the face that need it and the rest of the face is left untouched.  For example, a patient may just get Botox injected between the eyebrows to take care of wrinkles there while the rest of the face doesn't get any because it doesn't need it.
All the women who won the contest weren't concerned about safety – even though this is a soft face lift, it's still being done by a reputable doctor (one who specializes in this and is actually a dermatologist or plastic surgeon by training) and they felt like they were in good hands.  The women also knew that they would look great afterwards so they weren't concerned about the results.  They had seen the before and afters, and for patients who haven't, Allergan, the company that makes Juvederm and Botox has a computer machine in each doctor's office that lets you take a picture of your face, and point to areas of concern.  It then shows you what the results will be after you inject those areas.
As you can see, the before and after pictures are not super dramatic.  They are enough to make someone that knows you do a double take, but not enough to make them think that you've gone under the knife.  In fact, I asked each woman whether she felt different or whether her outlook on herself had changed.  And each one replied "…no".  Each woman felt that she still looked like herself when she looked in the mirror and if wasn't until they saw the "before" picture at the photoshoot that they realized how different they looked.  That in itself was pretty remarkable to me.
They all looked and felt more "fresh" but that was it.
One thing that I did notice was that each woman was ready for a change before they even applied to be chosen for the makeover.  They knew that they wanted a change in their lives and a positive enhancement in their appearance was a part of it.
Of course, they all had a ball at the photoshoot.  It's one thing to get a medical procedure done, but when a hair and makeup artist, and a stylist work on you, you feel as if you've arrived.  It was amazing to see them all get transformed and again, they just looked like a better version of themselves, which is the best makeover, really.
After seeing these ladies, I can't believe that more people I know aren't getting these procedures done.  They can have such a positive impact on how you look.
You can check out the entire makeover in this month's Avenue Magazine (pg. 181-182)!
Hair and makeup was done by Karen Malcolm and Sarah Byrne, and wardrobe stylings were by BRIOstyle.  All are from Calgary, true professionals, and industry leaders!  Look them up if you ever need their services!