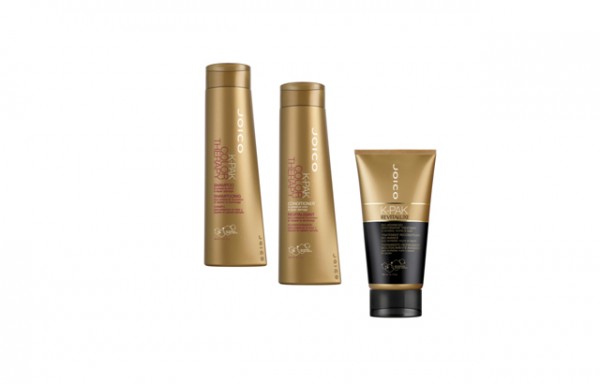 There's no doubt that no matter what climate you're in, the fall months mean dryer weather which can inevitably mean dryer hair and skin. On the quest to really give my hair some TLC, I turned to Joico's K-PAK line which promises to rebuild, reconstruct, and strengthen damaged hair. After a couple of weeks of uses, I have to say that I'm in love with the system.
I used the K-PAK Color Therapy Shampoo ($12.69) and Conditioner ($14.99) as well as the K-PAK Revitaluxe ($24.95) treatment on the weekends. The therapy starts right from the shampoo. Although it lathers well, when you rinse your hair, you can feel that it's so much smoother and softer. It's a rather conditioning shampoo which can be a nice way to add a dose of moisture into your hair, especially since colouring it can leave it dry.
The Color Therapy conditioner definitely added just the right dose of hydrating agents. It's moisturizing but washes clean so that your hair still feels light and is soft and manageable.
K-PAK Revitaluxe is a fortifying treatment that helps reconstruct hair from inside and out. As much as I loved the shampoo and conditioner that I described above, I have to say that I saw a difference in my hair from the first time that I used Revitaluxe. My curly hair was so nicely hydrated that it was actually curlier and more bouncy than before. Even the ends (which can become a little fried) seemed to be nicely plumped because of the added hydration.
The entire K-PAK system adds keratin to your hair, but in a balanced way so that you're not over-doing it (provided you use the system as advised) and so that your hair is soft and supple and not brittle because of the added keratin. After rinsing the Revitaluxe treatment from my hair, my hair felt dryer (even though it was still wet) and that's a definite sign of a keratin treatment being added to your hair. Upon drying, however, my hair was soft and smooth and much less frizzy and prone to tangles. Because this is a treatment, it's best used sparingly and once in a while – either weekly or monthly depending on your hair type and how prone it is to buildup and dryness.
Thoughts on keratin for your hair? I would love to hear from you!