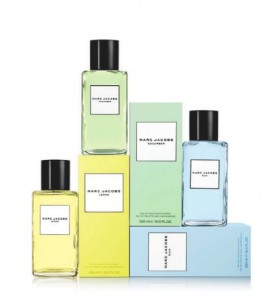 This is from the archives – Marc Jacobs cucumber used to be a favourite of mine but now… I actually don't know where I put it.
We Love Marc Jacobs because he does the things that everyone does but he manages to do them differently.  While we patiently wait for him to pull a Tom Ford and come out with an edgy makeup collection, we enjoy each and every one of his fragrances.
If you didn't get a chance last time around, this year you must check out the series of Marc Jacobs Summer Splash eaus.  They only come out once a year and when they're gone, they're gone.
The scents are always unisex and are eau de toilettes which means they're so light that you can douse yourself in them without worrying about offending anyone.
The year, the "flavours" are Cucumber, Rain (which was a best-seller), and Lemon.  Though the initial scent smells pretty much exactly as you would expect, the drydown for each of these is more complex so make sure that you give them a try.  My favourite is Cucumber because it is the freshest, and if you were getting something for a man-friend, I would get Rain which I think is masculine without being boring.
Lemon, of course, is the most surprising.  I guess I was expecting it to smell like Windex or something else lemony, but this perfume reminds me of a lemon tree!  It's absolutely luminous and light and like no other perfume out there.  The scent is an instant pick-me-up like nothing else.
The Splash series comes in huge 300 ml bottle and will cost $80 Canadian.  They used to be in Sephora and Holt Renfrew stores, but unfortunately they are no longer and we will have to wait for Marc Jacobs to bring them back.