By Kyle Gordon
What can I say? I'm a sucker for beautiful packaging, hence my love affair with everything L'Occitane en Provence. Even the name conjures images of the French countryside and my beloved Toile de Jouy (a beautiful fabric usually depicting a pastoral scene).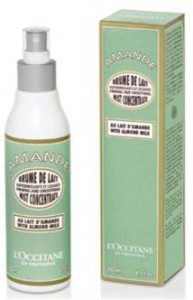 When this Mist Concentrate was brought to my attention I knew I had to share. I just love the idea of a body moisturizer in a mist. It's so easy to transport (perfect for travel or to throw in your gym bag) and it's loaded with almond proteins and silicium (to smooth and firm) and almond oil and milk (for softer and more supple skin).
Why Almond?
The almond tree is a strong symbol of the Provencal landscape (similar to the olive tree). For the last six years an initiative aimed at reviving the cultivation of almond trees (which were threatened since the 1930s) has been underway. L'Occitane played an active role in this project. It's just one more reason to fall in love with the Almond bodycare range.