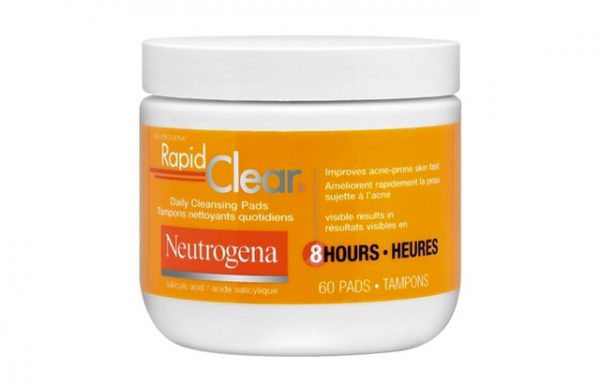 Although they're labelled as cleansing pads, the directions on Neutrogena's Rapid Clear Cleansing Pads say to use them after you already cleanse your skin, so they're more of a treatment than a cleanse.
Soaked with a solution containing salicylic acid, these pads deliver a dose of exfoliating serum that helps prevent breakouts and keeps skin clear. Unlike manual exfoliation, salicylic acid exfoliates from inside the pore, which is what helps keep skin more clear.
Salicylic Acid has to be one of my favourite skincare ingredients simply because my skin doesn't find it irritating and the light exfoliation makes my skin super smooth – and that's what I got after using these cleansing pads.  Not only did they clear up my skin but they also left it smoother and healthier – and lightened dark spots a bit too. The pre-soaked pads make them convenient too and so I found myself reaching for these all the time.
… and I confess, sometimes I even used them in place of cleansing so that I could combine skincare and cleansing in one step, even though that's not what you're supposed to do… oh well.
Did I have results in 8 hours?  No, but definitely after three days of using the pads.
Pick them up at drugstores.  Each jar contains 60 pads.