We love sheet masks for the instant glow that they give us – hydration makes everyone's skin happier.  But what you really want to do is follow up with a moisturizer that is going to seal all that serum in.  And if your skin is really dry, follow up with an oil.
I like to actually use my retinol after doing this Neutrogena Hydro Boost mask, and then I put a lovely moisturizing vitamin C on top so that I get hydration and brightening in 1 shot.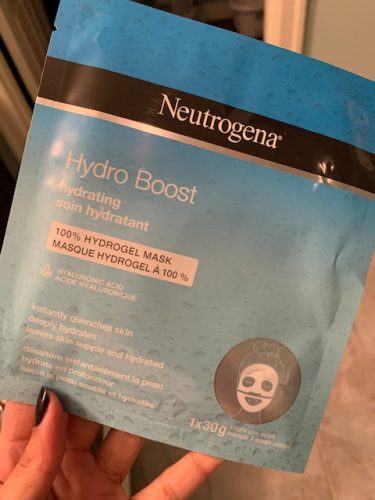 What I loved about this mask is that the top and the bottom are separated.  So it's easy to apply it more precisely than when you're using a mask that's all 1 piece.
The mask is soaked in Hyaluronic Acid which is a molecule that's already present in skin but can be reduced in dehydrated skin.  You can use serums, creams, or a mask to add it back into your skin.  The Hydrogel that the mask is made of is unlike the paper of other masks.  It contours to your skin better and just seems to stick.  When it's dry, it starts to fall off your face, and you know that it's time to take the mask off.  This takes about 15 minutes.
Then you want to seal in all that moisture that you just put in because if you don't, it's just going to evaporate into the air.  Use something moisturizing – a lotion or cream.
At drugstores for $4.89.