This year, Wynzie and I worked together on the "best of 2013" list and truth be told we kind of had a hard time finding products that we really loved and were still using.   Of course, there was no denying the products that are on the list – we  wouldn't part with them for anything!
We would LOVE to hear what your favourite products of 2013 are!  Leave us your picks in the comments!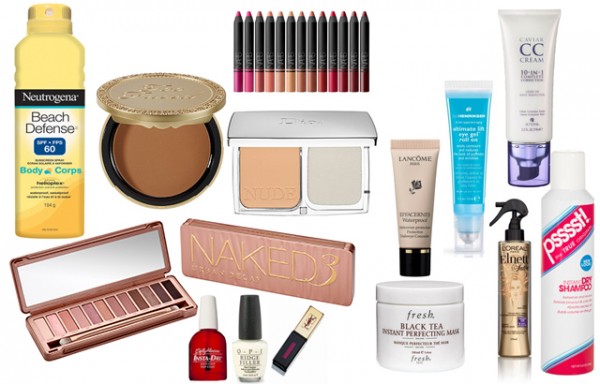 Hair
Shampoo and Conditioner (Salon) | Kevin Murphy Born Again Shampoo and Treatment.  Makes dry and damaged hair look as if heat has never touched it.
Dry Shampoo | Pssssst Dry shampoo – love the way this soaks up oil and leaves hair bouncy and just-washed feeling.
Hair Cream | Shu Uemura Essence Absolue – This hair in oil cream gave my dry fluffy hair moisture and weight…without the grease.
Hair Spray | L'Oreal Elnett Satin Heat Styling Spray Straight – I basically can't blow-dry my hair without using this spray.  It's kind of like John Frieda's Three Day Straight but cheaper and with a nicer spraying mechanism.
Leave in Conditioner | Alterna Caviar CC Cream for Hair – For seriously soft, super touchable hair, even in the harshest Canadian winter.
Lip
Lip Stain | YSL Rouge Pur Couture Glossy Stain – Technically it's a gloss, but it's pigmented like a lipstick, leaves the perfect amount of stain and doesn't dry your lips in the least, even after a few hours of wear. Pretty much all  your lip product dreams come true.
Lip Gloss | Fresh Sugar Shine Lip Treatment – Sure, I tried tons of new lippies this year but the only thing I can't live without is the gloss version of Fresh's original Sugar Lip Treatment.  This packs in all the benefits of the original lip treatment but is easier to apply and doesn't melt messily on contact like the other treatment did.
Lipstick | Kate Moss for Rimmel London Velvet Touch Lipstick – I got these lipsticks at the beginning of the year, and I still reach for them.  The natural colours are especially flattering and easy to wear.
Jumbo Lip Pencil | Nars Satin Lip Pencil – this was undeniably the year of jumbo pencils and every major brand had a version out.  I liked the Nars ones because they go on smoothly, are highly pigmented, and set to a finish that doesn't come off too easily.  These were closest to lipsticks rather than the balm versions most other brands had.
Eye
Liquid Eyeliner (high end) | Eyeko Skinny liquid liner – This can be layered right to the end of the tube and is lovely, pigmented and black.
Liquid Eyeliner (drugstore) | L'Oreal Paris Infallible The Super Slim Liquid Liner – I loved this liner so much that it has already made it into my empties pile once, and I'm on my second tube.
Waterliner | EM Cosmetics Waterliner – Gorgeous and intensely pigmented, these come in a rainbow of gorgeous colours that glide smoothly onto waterlines. Set it with a bit of powder just under the waterline and it will last until the wee hours of the night.
Pencil highlighter| Starlooks Gem Eyeliner Pencil in Amethyst – Perfect for highlighting the browbone and inner corners of your eyes, this comes in 6 beautiful, shimmering colours that last all day. We like Amethyst, a soft lavender shade that isn't too white.
Mascara | L'Oreal Voluminous Butterfly Lashes Mascara – The wand is crazy and it works.
Eyeshadow Palette | Urban Decay Naked 3 – Just in case you needed to hear it again, the latest offering from the Naked series contains beautiful rose gold shadows that look perfect on any skin tone. The Naked shadows are super pigmented and will last you a full day without creasing.
Face
BB Cream | Skin 79 VIP Gold Super Plus BB – It comes in just one shade, but if your skin is on the lighter side, there's nothing like it for one step skin smoothing and brightening.
Foundation (liquid) | Sayuki Cosmetics Foundation –  Seriously the holy grail of foundations for those of us who have trouble finding the perfect match.  The formula leaves something to be desired, but this is breakthrough technology and so it makes the list of best beauty products this year.
Foundation (long wear) | Bobbi Brown Long-Wear Even Finish Liquid Foundation –  If you like long-wear products, then this foundation can't be beat.  It lasts through workouts and doesn't even oxidize over a long day of wear.  Plus, it's natural looking and offers sheer to heavy coverage.
Foundation (powder) | Diorskin Compact Foundation – When we wore this, people asked us how we got such good skin and we convinced three of our friends to purchase it.  'Nuff said.
Concealer | Lancome Effacernes Waterproof Undereye Concealer – This is probably better described as an ultra concentrated foundation, as it doesn't have the usual thick, creamy feel of regular concealers. But for scary dark circles, there's nothing like it because it can be layered and layered without creasing, caking or smearing. And it's waterproof.
Sunscreen | Vichy Capital Soleil Ultra-Fluid Sun  – We used this sunscreen to the last drop and it works under makeup.
Cheek
Bronzer | Too Faced Chocolate Soleil Medium/Deep Matte Bronzer – Devoid of shimmer and fake looking orange tints, this is the perfect contouring bronzer. With its lovely chocolate scent, what's not to love?
Skincare
Eye gel | Ole Henriksen Ultimate Life Eye Gel – This comes in AM and PM versions, and both feel incredible on tired eyes and are wonderfully moisturizing. Just remember to gently pat this in if you're planning to wear makeup on top of it.
Cleansing oil | Shiseido Ultimate Cleansing oil – We love cleansing oil around here and this is one of our favorites for breaking down makeup and sebum like no tomorrow. Of course, we're always open to trying the latest and greatest, but this cleansing oil is like an old friend that never lets you down.
Serum | Clarins Double Serum – This is the best serum out there and is perfect for every skin type.  Part oil-based, and part water-based, this serum offers hydration and nutrition in one, and will make your skin so luminous.
Mask | Fresh Black Tea Instant Perfecting Mask – Instantly revives dull, tired skin, hydrating and giving it a gorgeous glow.
Sunscreen | Neutrogena Beach Defense – With a formula for the entire family, this was hands down the best line of sunscreen we tried this year, and we used every last drop!
Nail
Top Coat (drugstore) | Sally Hansen Insta-Dri Anti-Chip Top Coat – Similar to Seche Vite, this top coat dries within minutes and gives you a shiny, chip -free manicure for at least a week.
Top Coat (high end) | Dior Gel Top Coat –  This top coat takes longer to dry than the Seche Vite or Sally Hansen, but it's so shiny and makes it look like you're wearing gel nails.   Oh, and it does help polish last longer.
Base Coat | OPI Ridge Filler – Makes your manicure go on smoother and last twice as long. Also, it's a neutral off-white, to neutralize any yellowness if you're using a sheer polish.