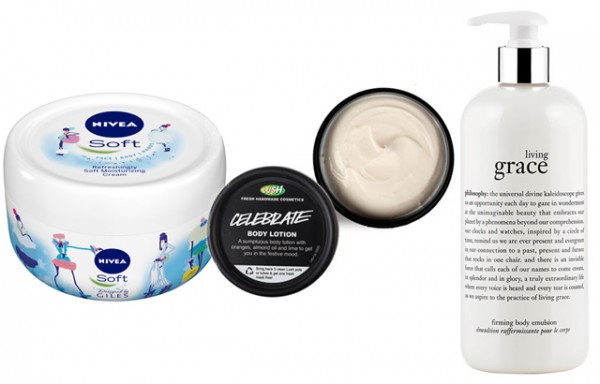 …featuring Nivea, Lush, and Philosophy.  Come winter-time (yes, it's officially here when stores start advertising for Christmas) I need to surround myself with lotions.  I have one in the bathroom, at my desk, and beside my bed, so that I can atleast keep torn cuticles at bay.  Here are my three favourite body lotions right now – and they're going to end up on my empty list at some point too!
1. Nivea Soft.
I've actually grown up with Nivea – the original kind in the blue tins, and if you're from a developing country then you probably have too!  It's the one cream that's always been cheap and easy to find, and can relieve temporary dryness in a second.  Safe enough to use on the body and the face, if you're a Nivea fan you're in good company because you can find it all over the world!  My dad always had a small tin of tube in his laptop bag or in the dash of his car, and so of course after seeing it so much, it makes sense that it's been years since I tried it on myself.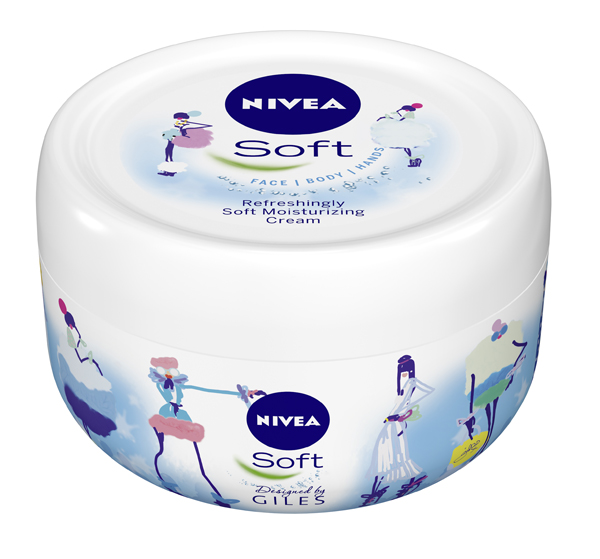 Then, this past fall, this pretty little tub of Nivea Soft came my way and I finally cracked it open.
It's definitely not the thick greasy lotion of the original Nivea, but instead, a light-as-air soft cream that still has a light version of the iconic Nivea scent.  Nivea Soft is super quick absorbing, completely non-greasy, and still made for the hair, body, hands, and face. It also contains Vitamin E and Jojoba to nourish the skin. I DO NOT use this on my face, but it's done a decent job at hydrating my hands and nails as the weather gets colder.
You might not be able to find my pretty little tub anymore (it was limited edition designed by Giles Deacon this September) but you can get Nivea Soft at major drug, pharmacy and mass merchandise stores. $10.99 for 200ml.
2. Lush Celebrate Hand and Body Lotion.
Cognac is everywhere this Christmas season, and no not to drink! It's being used in perfumes!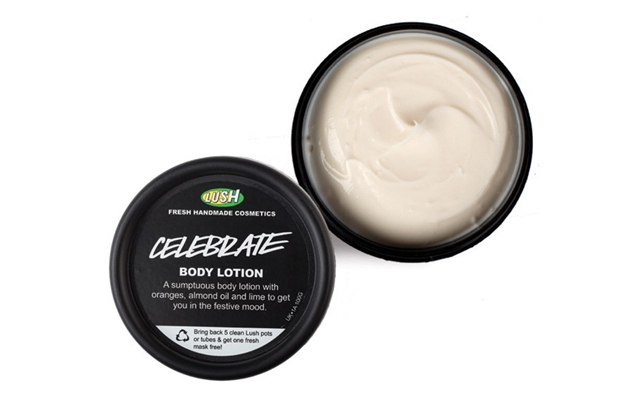 First, it made its appearance in the Aerin Evening Rose perfume, and now in this intense new limited edition body lotion from Lush. Celebrate has apparently been selling for years in Japan, and now it's available in North America for the Christmas season.
Like most Lush lotions, this one is strongly scented (with cognac oil making an appearance) and leaves your skin quite greasy. The base is made up of Almond Oil, Cocoa Butter, and Glycerine so this not only relieves any dryness on the skin, but also attracts moisture to the skin.
The perfume of the lotion is made up of orange oil, lime, benzoin, and cognac oil, and the overall effect is fresh and sharp (very much as if you smelled the rind of an orange). It's also warm and settles and wears nicely on the skin – notice that I can talk about the lotion almost like a perfume, and this is so strongly scented that it wears like a perfume.  It's not for everyone, but it's nice to use on your hands – I find that's the perfect amount of scent for me.
I love love love this lotion because it is so rich and perfect for super cold months. It's also very creamy and easy to spread and basically the next best thing to using a Lush body butter or a body oil.
Pick it up at Lush stores or at Lush.ca. $29.95 for a 220g tub.
3. Philosophy Living Grace Firming Body Emulsion.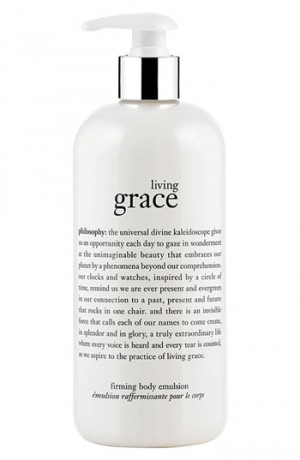 I love Philosophy lotions because they're the perfect mix between something like Nivea and a Lush-type lotion.  They are made with natural oils (like those from Lush), but they're completely non-greasy and absorb into the skin rather quickly (like Nivea Soft).  I love the Living Grace Firming Emulsion because it has a nice clean, yet warm, scent that's very wearable.  By the time I'm ready to get dressed, this has sunk into my skin and any dryness or itchiness is kept away.
Pick it up at The Bay for $44. This is the most expensive lotion of the bunch, but it goes without saying that i's also the most luxurious and the formula is unparalleled.  Might be worth a splurge.