Clean skin is skin that breaks out less and looks healthier, so here's what I'm using right now to have super clean skin.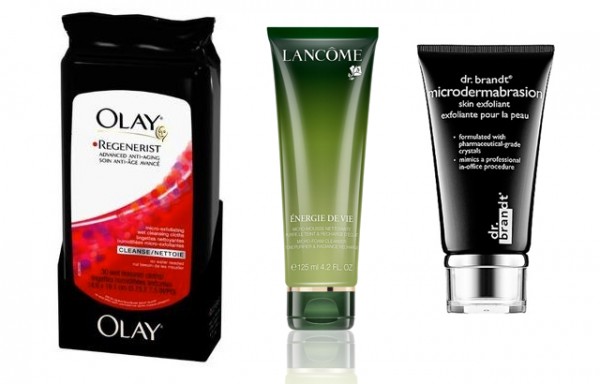 Step 1: Cleansing Cloths
I love a good cleansing cloth, and my recent find are these ones from Olay's Regenerist line. I love them because they are the thickest cleansing cloths that I have ever tried!
They are also super wet, so there's lots of cleanser on them to help you take off your makeup, and the textured cloths also provide very gentle exfoliation.
I always follow up with a soapy cleanser for a more thorough clean, but these are great for taking off the bulk of my makeup.
Step 2: Foaming Cleanser
Nothing feels better than giving your face a thorough clean, and I love Lancome's new Energie de Vie Micro-Foam cleanser. This cleanser is foaming, and smells absolutely amazing. It's a patchouli musky blend that's heady and a nice change from what most other cleansers smell like.
Step 3: Scrub
Get rid of that extra layer of dead skin for instantly brighter skin.  I absolutely love Dr. Brandt's Microdermabrasion Skin Exfoliant.  It has super small particles that feel almost like sand on the skin, but wash away clean and leave your skin feeling and looking as smooth as glass.  Seriously, my skin is scrubbed shiny after I use this and in the summer, it's a weekly must.
What are your favourite cleansing products?