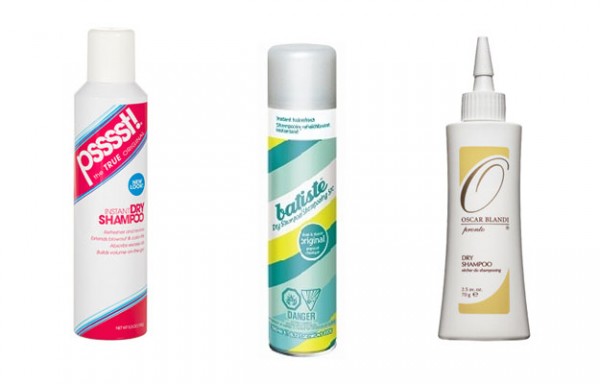 If you haven't tried dry shampoos yet, it's time to jump on the bandwagon. Daily washing strips your hair of essential oils and moisture, and it's especially important to retain these in the winter. Keep it on hand to revive a blowout, or simply refresh your hair.
Psssst Instant Spray Shampoo: My personal favorite for soaking up unwanted oil, it also has a nice fresh scent that isn't too over powering. Absolutely worth the hype. It doesn't give you volume, but for it's absolutely the best if your hair needs a wash like nobody business for several days. Sprays on white-ish, but brushes out easily. The only downside is, you can't get this one at drugstores in Canada. However, it can be ordered online from Freeman Beauty for $7.
Batiste Dry Shampoo: This one is great because it helps boost volume as well as soak up oil from second or third day dirty hair. If you've spent time getting a blow out because it'll help keep the waves bouncy. However, I tend to use this one the day of if I'm planning to wash my hair at night because it tends to be even greasier in the morning. Sprays on white, but fades quickly with a few brush strokes. $9 at drugstores and now available at Shoppers Drug Mart in Canada!
Oscar Blandi Pronto Dry Shampoo Powder: The powder form of Oscar Blandi's Dry Shampoo has a lovely lemon scent and does a great job of soaking up excess oil if you've skipped a wash. The white powder is tapped out of a bottle, applied to your scalp and rubbed in, so it's a little more time consuming to apply than the spray versions.The white is a little difficult to brush out, so remember that a little goes a long way. $13.50 at Sephora, hair salons and drug stores.