Here are some picks from OPI's Spring 2014 Brazil collection.  The collection is a mix of very bright colours and then a slew of purples.  The purples are easy to wear and those are the colours that I tried!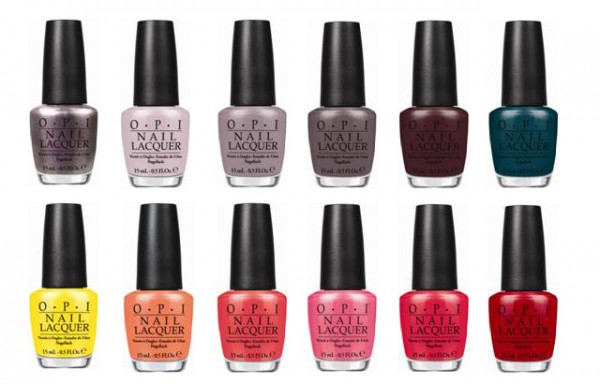 Here are the colours and their descriptions:
Next Stop…The Bikini Zone 
This amethyst-toned pewter suits me just fine.
Don't Bossa Nova Me Around
Nobody can stop me from wearing this creamy nude!
Taupe-less Beach 
There's nothing optional about wearing this enticing taupe.
I São Paulo Over There 
He was sipping coffee with this mocha-toned beauty.
OPI Scores a Goal! 
Make your point in this winning shade of rich chocolate.
AmazON…AmazOFF
I'm making the switch to this deep jungle green.
I Just Can't Cope-acabana 
Nothing lifts your spirits like this sunshine yellow.
Where Did Suzi's Man-go? 
He went to fetch her this delicious mango smoothie.
Toucan Do It If You Try 
You have talent to achieve anything in this confident orange.
Kiss Me I'm Brazilian 
Plant this warm luscious pink on me!
Live.Love.Carnaval 
This vibrant and festive coral is the life of the party.
Red Hot Rio
A ruby red as hot as the most exciting city in Brazil.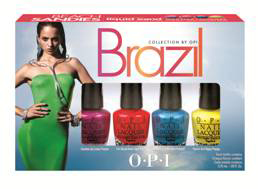 The collection also includes a package of matte Liquid Sand minis with the following shades:
Samba-dy Loves Purple
Well, who wouldn't find this vivid textured violet irresistible?
I'm Brazil Nuts Over You 
And I'm crazy for this textured matte pink.
What's a Little Rain Forest? 
I've got this textured matte blue and an umbrella for two.
You're So Flippy Floppy
When I found this bright textured yellow, I just flipped!
I just had to try Don't Bossa Nova Me Around since I'm into the super light shades this spring.  Don't Bossa Nova Me Around is super pigmented and I could have done with just one coat – but I went with two just for added staying power and I'm glad that I did.  It looks a little flat in this image, and to tell you the truth, it's just as flat in real life.  There's a large amount of white pigment in there and it just wears very light.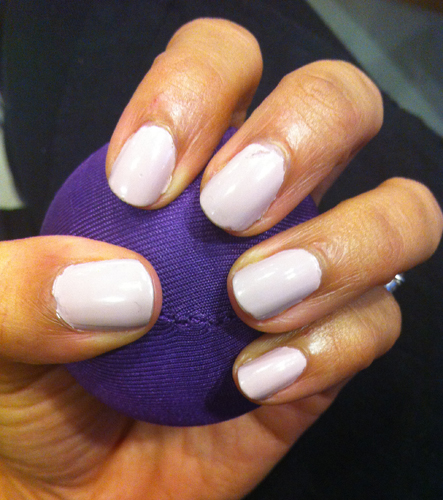 Here is Next Stop…The Bikini Zone .  As you can see, this shimmery purple is completely different from all the others.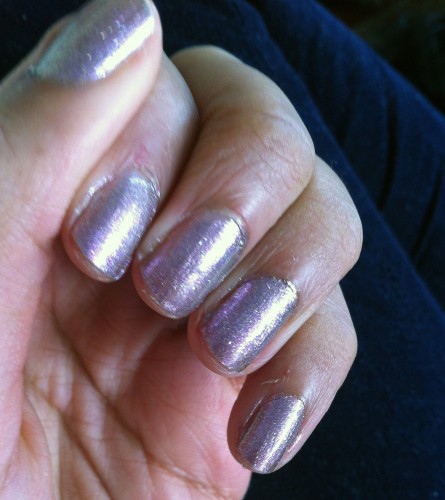 Taupe-less Beach a wearable stone.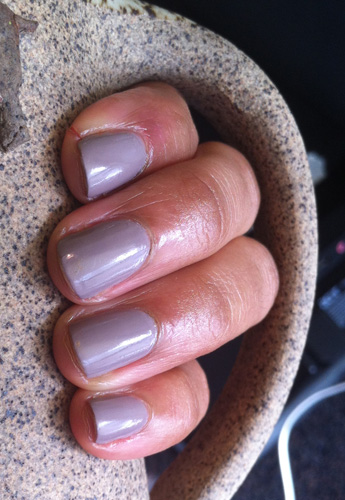 Those are the three shades that I tried.  Do you have a favourite?
The entire collection is available at salons now.