We love gel eyeliners. They're incredibly versatile and are perfect to line your waterline with because they are waterproof as well. These three are all well loved, tried and tested gel liners that you'll love to take home. They won't tug on eyelids like pencils will, and generally have a less intense look than liquid liners do.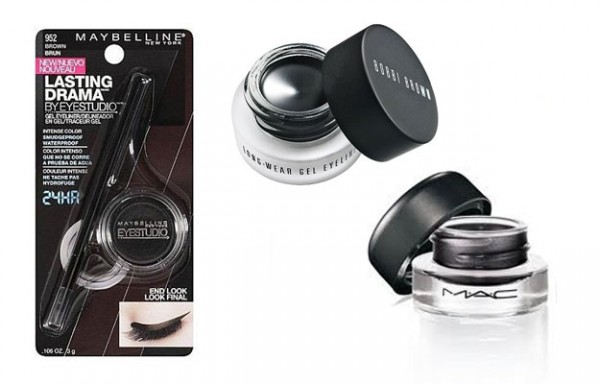 Maybelline Eye Studio Lasting Drama Gel Eyeliner in Blackest Black – We loved the inky black of this liner, which is not quite a matte black but doesn't have any shimmer either. Maybelline's version of the gel liner comes with a domed head brush. Super long lasting, this formula is absolutely waterproof and will last through any sweaty hot yoga classes you may attend. This one is a bit smoother than the Mac or Bobbi Brown versions, but can still be both blended and smudged. $12 at drugstores and grocery stores.
Mac Fluid-line Eyeliner Gel in Blacktrack – This is the truest black of the lot, and has a more matte finish than the other two. This liner doesn't need to be layered for a very black, intense line (if that's what you're into. For a less intense black, try the Charcoal colour). This doesn't budge easily, and requires more than a mild makeup remover to remove. With this, keep the lid tightly closed because it tends to dry out quickly. $19 at Mac stores.
Bobbi Brown Long Wear Gel Liner – Bobbi Brown's award winning gel liner is the most wearable of the three, and can be layered to build intensity. Water resistant, it can be smudged and blended but once it sets it stays put for a entire day of whatever you can throw at it. Bobbi's ultra-fine liner brush also has a slightly domed head, which can be used to apply thick and thin lines.  $23 at Bobbi Brown.