Friends, I'm visiting my hometown of Toronto for a few weeks, and I truly was not prepared for the damage it would do to my hairstyle.  Last Friday I had to head out to a wedding and after carefully straightening my hair and coating it with layers of hairspray, I stepped out into the twilight only to have the entire hairstyle turn into a fluff-ball within minutes.  Yikes.
Since, I've been experimenting because I know I can beat this thing.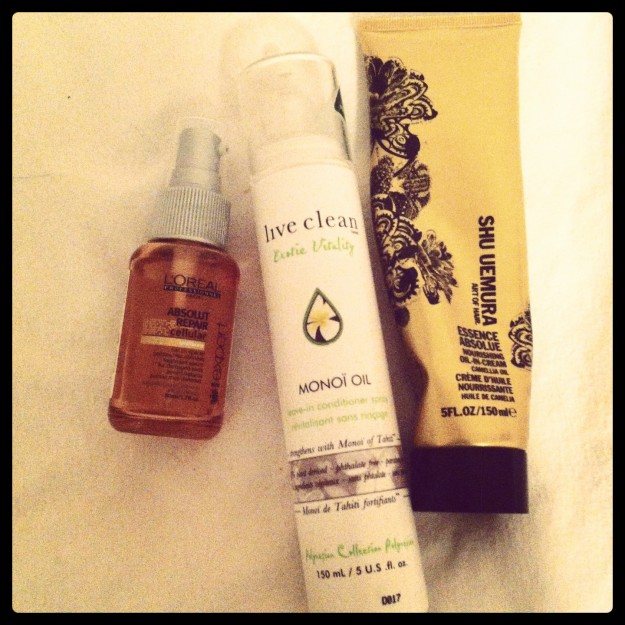 So here's my recipe:
Copious amounts of Live Clean Leave-In Conditioner, L'Oreal Professionnel Absolut Repair serum, and Shu Uemura Art of Hair Essence Absolue Nourishing Oil-in-Cream.  In that order.
Divide your hair into 3 sections and apply the products thoroughly while hair is wet and then dry using your method of choice.  My curly (obviously frizz-prone) hair tends to soak up product like nobody's business, so I like to use a LOT and it works.  If I'm wearing my hair curly, the curls are well-defined and glossy, but if I straighten then my hair stays straight and looks glossy and moisturized.
These three products work for a reason.  After you get out of the shower, you need to give your hair a dose of light moisture, and that's what the Live Clean Leave-In Conditioner does.
Then you need to seal all that goodness in – enter the Absolut Repair Serum.
Then – believe it or not – you need something that can add some weight so that there's not too much frizz.  Said product needs to leave hair touchably soft so you don't want a gel.  That's what I turn to the Shu Uemura Art of Hair Essence Absolue Nourishing Oil-in-Cream.  Because it's a cream it's a little heavier so you can use it sparingly.  It's also great to finish dry hair.
If you have ways to combat humidity, I'd love to hear what you use!!!