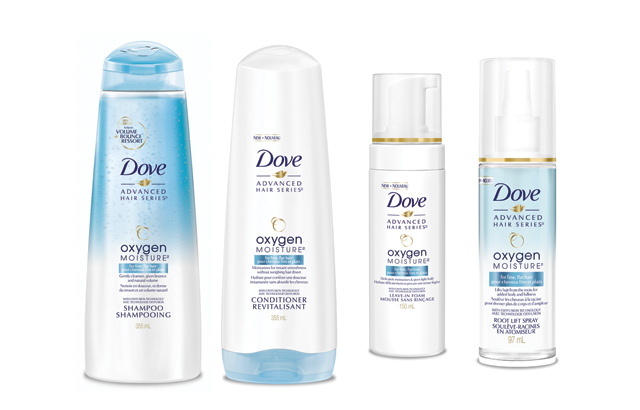 Specifically made for fine and flat hair, Dove's Oxygen Moisture Line was calling out to me. My curly super dry hair needs an oomph every now and then so that it looks more full. As every hair stylist I've ever been to says to me: I have lots of hair, but it's hard to tell because it is so fine. I just need to get it up and out so that every single strand is on display.
The problem, however, with most mousses and volumizing products is that they can be a little drying, or they don't deliver any moisture to hair.
And now there's the Oxygen Moisture Line which consists of a shampoo & conditioner, a leave-in foam, and a root lift spray.
The product I was drawn to right away was the Oxygen Moisture Leave in Foam ($7.98). Said to moisturize while adding up to 95% more volume, this sounded like a winner. What you need to understand is that Dove is the master of making moisturizing foaming product. Remember the Dove Style+Care Nourishing Curls Whipped Cream Mousse? It was a mousse and serum in one and needed to be tried to be believed. I knew that if they could make a product like that once, they could do it again, and the Oxygen Moisture Leave-In Foam does not disappoint!
This product does dispense like a foam (rather than a mousse) in your hand, but when you apply it to your hair you can feel the slickness that's in this product and is being applied to your hair. There's no stickiness or tackiness, and the product is almost like a very light serum or styling cream. My curls dried shiny and defined which was exactly the effect I've been looking for. I do find that I need to add a couple of pumps of serum with this cream but that's because my hair is extremely dry and damaged right now. The best part is that my hair is super soft after using the whole entire line.
If you want volume close to the roots, then you have to try the Oxygen Moisture Root Lift Spray ($7.98). Apply it just to your roots and dry your hair using the method of your choice. Somehow, you'll find your hair lifted off the scalp – I found this to be the case even when I air-dried my hair.
The shampoo and conditioner in this line are also great – moisturizing without weighing hair down ($6.75 each).
You can find the entire Oxygen Moisture line at drugstores now.