Retro pretty cat eyes have been gracing red carpets and runways for a while now (Thanks Katy Perry, Adele and Lana Del Rey). Once you master it, liquid eyeliner is a great way to recreate this chic look. I'm not sure I'll ever discard pencils and gel liners entirely, but liquids are great for quick application (less drag on eyelids), clean lines and fantastic colour payoff.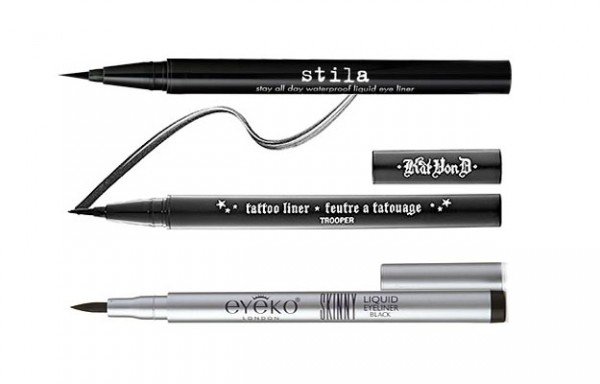 Eyeko Skinny Liquid Eyeliner: Touted by Alexa Chung as her go-to eyeliner, the Eyeko liquid eyeliner is great for beginners because the colour flow isn't too heavy. It makes a nice size line without too much effort, and is easy to draw thick or thin lines with, making it one of my favorite pens for application. With a primer, this eyeliner lasts at least through the work day and is water resistant. I found the formula to be about average in  how long it lasted in the tube before drying out, but I did like that even towards the end of the tube the fomula didn't flake and could be layered. I tried this eyeliner in both black and purple, and while the black was reasonably dark with one stroke, the purple was very watery and didn't wear well at all. $19 at eyeko.com and Sephora stores.
Kat Von D Tattoo Liner: I loved this eyeliner when I first bought it. Perfect ink flow, a wonderful applicator and decent staying power made this one of the most reached for eyeliners in my makeup bag. However, about halfway through the tube, the formula started to flake on hot and humid days, leaving me with very unattractive cracked look. At that point, trying to layer the product would result in some areas with too much product and some with obviously not enough. This is also true once the formula has dried (not so great if you've missed a spot). While the formula is wonderful at the beginning, this isn't something I would buy again because of the poor lasting power in the tube. $22 at Sephora stores.
Stila Stay all Day Waterproof Liquid Eyeliner: Stila's version of the pen eyeliner has a gorgeous, inky black colour that glides perfectly and lasts all day. It is absolutely waterproof (I've gone swimming with this on!) and looks just applied, even at the end of a long day. My experience with this was that I didn't need a primer to make it last, but my eyelids also don't tend to get very oily. If yours do, I would stick to a nice, neutral eyeshadow primer just to give it something to adhere to. My only quibble with this one is that the ink flow is quite heavy at the beginning of the tube, which could mean globs of ink if you're not careful to wipe the excess before you apply it. Unlike the other two, it does have a slight sheen, so it is also probably not for you if you like a very matte black look. $26 at Sephora and Stila stores.