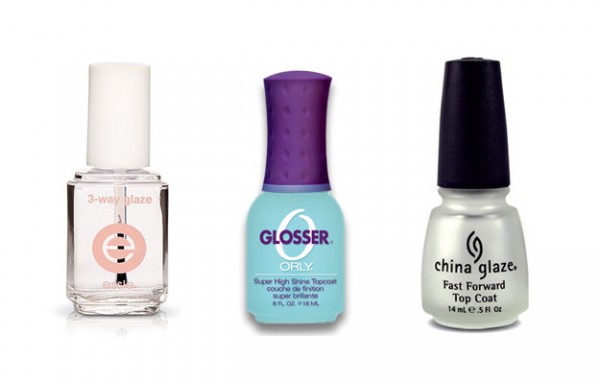 Have you guys checked out NailPolishCanada.com? They have almost every major brand of nail polish as well as lots of cult brands as well. Any kind of top coat or base coat or special effect polish can be found there and back when we couldn't find Seche Vite at a salon, that's where we went to order our stash.
This week, we paired up with them to review three top coats. I mean, we love our Seche Vite and Vinylux versions, but we wouldn't be beauty bloggers if we didn't try everything out there. For this post, we tried the Essie 3 Way Glaze, Orly Glosser, and Fast Forward by China Glaze. They're all top sellers on NailPolishCanada.com (although nothing sells more than Seche Vite), and have decent reviews.
First we tried the Essie top coat because we were wearing Essie polish so much that it only seemed fitting that we try this. The Essie 3 Way Glaze works as a top coat, base coat, and nail strengthener. Already, I saw a possible problem with this top coat. In my experience, base coats and top coats work differently and dry differently. Most base coats I've used aren't glossy so that the polish can stick to them, and the top coats dry glossy. Base coats also tend to dry more quickly so that you can apply polish right away.
In any case, I used the 3 Way Glaze before and after an Essie manicure. As a base coat, this worked fine… my polish definitely went on more smooth than it normally does. After two coats of the polish, I applied the top coat….. and it took forever to dry! After about 45 minutes, I got tired of waiting for it to dry (it wasn't even set) and went to bed. Guess what? In the morning, while my manicure wasn't totally ruined, it didn't look great. There were definite smudges and marks on it.
I had major tip wear after 5 days, and on day 6 the polish was pretty much ready to come off. Although this top coat took forever to dry, I was impressed with the shine of it and the fact that it lasted as long as it did. Still, I wouldn't recommend it.
Then, I tried Orly's Glosser, and I'm happy to say that this top coat also dries rather quickly.  It's very thin in texture, however, and so it was a little difficult to apply evenly and fully to the nail – and I have rather small nails to begin with.  Once I got the hang of it, I was apply to apply this evenly, and it evened out my nail polish and set it to a shiny finish.
Finally, coat we tried was Fast Forward by China Glaze, and I'm happy to say that this dried in a jiffy and was shiny to boot.  It wasn't as shiny as our Dior Gel Top Coat, but it's shiny enough, and if you're wearing a shimmery polish then you probably don't need extra shine anyway.  This top coat dried in about 10 minutes.
…and then I had a chip two days later (and it was sizeable), so I'm not going to give this one points for longevity.
All in all, it was surprising that the top coat I liked the best was the one that I still wouldn't recommend.  Who really has time to wait hours for their nail polish to dry.  Around here, we're still going to recommend top coats that are tried and true: Seche Vite, Sally Hansen, CND's Vinylux. Dior Gel Top Coat are still our favourites.