@Moroccanoil body products are some of the most luxurious available. Like their haircare line, Moroccanoil body products promise to hydrate and nourish using the ever-potent argan oil.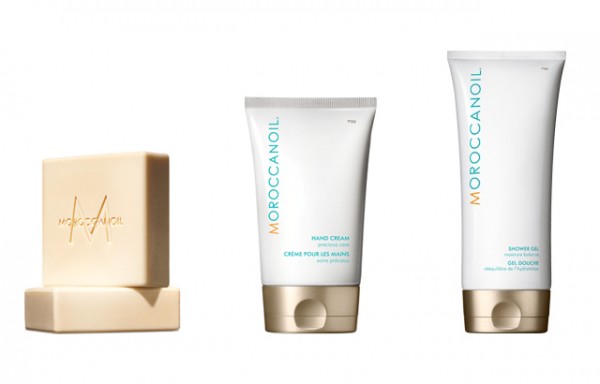 New to the line is a soap bar ($10), a shower gel ($26), and my absolute favourite, a hand cream ($28).
What I love about all three of the products is that they don't smell overwhelmingly like the Moroccanoil haircare line. It's a nice scent, but not the way that I want to smell all the time. It's sweet (on my skin), and I'm drawn to cooler more earthy scents.
The hand cream contains cocoa butter, shea butter, mango butter, and avocado butter, in addition to the argan oil – but it's not greasy and absorbs into your skin quite quickly which makes it a pleasure to use on a regular basis.  Scented with a light orange blossom perfume that dissipates quickly, this hand cream is sure to be inoffensive no matter where you use it.
The Cleansing Bar has moisturizes as well as talc which helps absorb excess oils and perspiration – it's expensive but really quite lovely to use.
The Shower Gel is probably the only product that doesn't offer anything amazing…
Moroccanoil body products are available at luxury spas, fine salons nationwide and at Ben and Tournesol in Montreal. Discover signature services and products through prestige spa partners, including Quartz Crystal Spa (Trump Hotel Toronto), The Spa at Fairmont Chateau Lake Louise, Spa Vida (Sheraton Wall Center Vancouver), Victoria Park Spa (Montreal) and The Spa at the Four Seasons Toronto. To explore the full line of Moroccanoil products, visit www.moroccanoil.com.