Things we love about winter: Eggnog, cuddly sweaters and nights in front of the fireplace. Things we don't love so much? Staticy, frizzy and super dry hair (caused by said sweaters and fireplace sitting, as well as freezing wind and snow. Yuck). Here are some of our favorites for keeping your mane soft and silky during the deep freeze.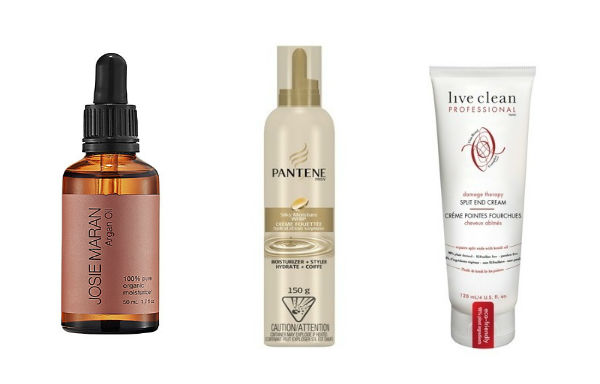 Josie Maran Argan Oil: The  many wonderful uses of argan oil include: daily moisturizer, cuticle oil and static tamer. A little goes a long way, and this is a great multi-tasker if you're going on a trip this holiday season. I like to use a little on the ends of my hair after I've blow dried it to keep it smooth and tangle free. Argan oil is the new kid on the block this year, but you can get the same benefits from a tub of coconut oil. We like Josie Maran, but if you have a health food or organic store in your area, you can find argan oil and coconut oil for cheaper. Just make sure that what you're buying is 100% argan or coconut oil and doesn't have any additives!  Josie Maran Argan Oil is around $55 on josiemarancosmetics.com or at Sephora.
Pantene Silky Moisture Whip: A moisturizing styling cream, this protects your hair during heat styling and keeps hair shiny and frizz-free. This comes in a whipped-cream style canister, which isn't our favorite, as it tends to dispense way more product than you actually need. That said, it's not at all sticky and makes your hair super soft while providing a light hold. It's great for defining natural curls, as well as boosting volume in straight hair. $6 at drugstores.
Live Clean Professional Damage Therapy Split End Cream: This is a deep conditioner for over-processed hair that is splitting into five at the ends. This absolutely will help your hair look and feel less damaged. The omegas in the Kendi oil that is the star product of this conditioner will help rid you of crispy, tangly hair. We recommend using a clarifying shampoo once a week with this product, as it may cause build up over time. You can feel good when you're using Live Clean products, knowing that there are no harsh chemical additives, they do not test on animals, and their packaging is recyclable. $9 at drugstores.
What are your favorite winter hair remedies? We'd love to hear from you!