Did you run out of sunscreen last weekend? Or did you forget to even grab it because it's tedious to apply? Well here are some new formulas that are better than what you have lying around – grab them before your weekend activities. They're all from L'Oreal Paris; their new line of Sublime Sun products are amazing. New formulas that are unlike what's out there. We tried them all and here are our favourites: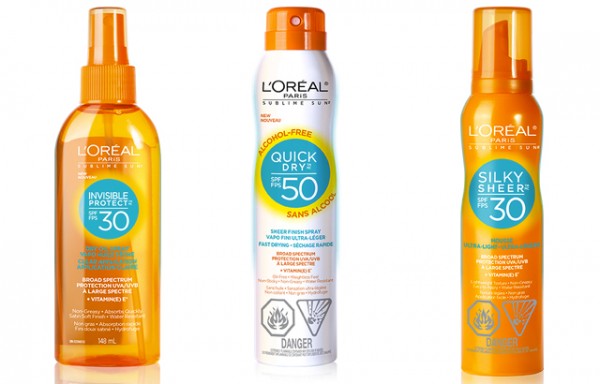 1. L'Oreal Sublime Sun Invisible Protect Dry Oil. This is perfect if you're going to get photographed, because it makes your skin look moisturized and dewy. Perfect for the face and body, and it even works to defrizz hair in a pinch. SPF 30 and truly invisible besides the sheen. Especially fantastic for dry, irritated skin – the oil works to camouflage any dryness.
2.  L'Oreal Sublime Sun Silky Sheer Ultra-Light Mousse. A fantastic option if you like to see exactly where your applying so that you don't miss any spots. Dries down to pretty much nothing so you don't ever feel that you have it on. SPF 30 and perfect for a day in the park.
3. L'Oreal Sublime Sun Quick Dry Alcohol Free Sheer Finish Spray. Really does dry quickly and perfect for touch-ups. I like the spray sunscreens because they cool you down as you apply them, so they're nice to have on hand if you're spending a lot of time outdoors.
$17.99 each at drugstores now.