This year instead of going through as many looks as possible from New York Fashion Week, I just went through the ones that were from brands and designers I actually buy (…and want to buy more of).  It's interesting to me to see what the designers visualize as the wearer of their clothes.
First up: Rag and Bone.  I resisted buying Rag and Bone jeans for such a long time, but once I got a pair that I really loved, I was sold on the entire collection, and have their Harrow Boot too.  The Rag and Bone girl for Spring 2014 is way cool.  She doesn't need glamourous hair, and can get away with just a bright lipstick when it comes to makeup (… and some major contour under the cheekbones, but you're not supposed to see that).  .. and also, my favourite look featured overalls, so I guess those are still going to be in.
The makeup was done by Gucci Westman, which means that this orange lipstick is by Revlon.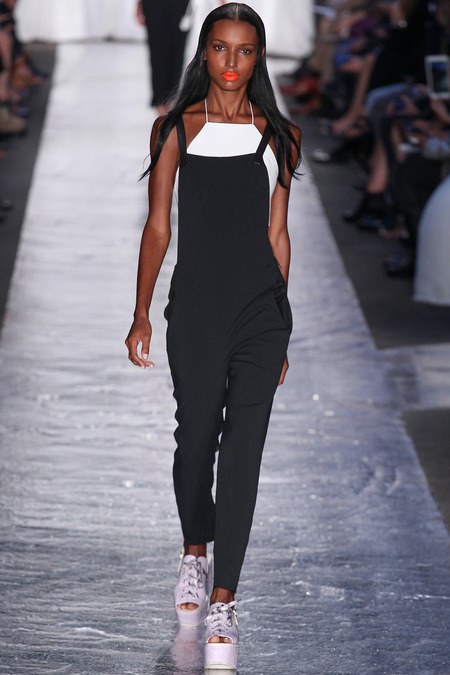 Second:BCBG Max Azria.  Truth be told, I haven't bought anything BCBG for atleast a year – there seems to be too many prom dresses to wade through whenever I go in – but I do always go into their stores and keep an eye on each collection.  The breezy number in pale blues below stood out to me, and I'll definitely be checking out their spring collection.  Beauty-wise it seems the Azria's prefer a girl to work her natural look as much as possible.  Hair was wind-blown but not beachy or unkempt, and makeup was subdued to say the least.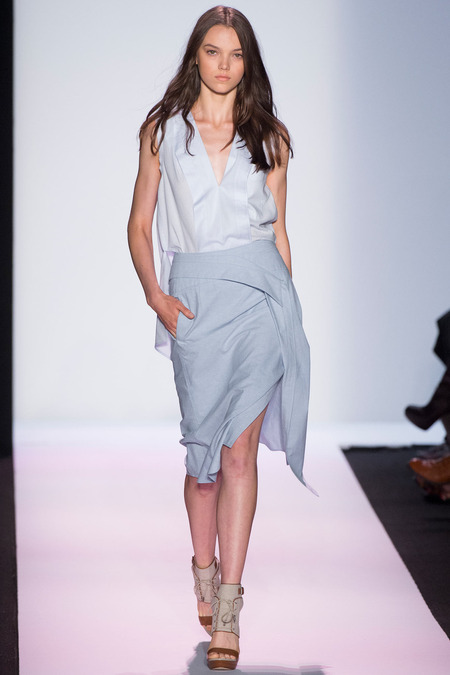 Finally: Kate Spade New York.  I love Kate Spade because the brand always uses colour and prints and sometimes those can be difficult to find.  Where other designers were using a lot of white, black, and not much else, KSNY did the opposite and had lots of colour in their collection. The opposition also applied to their beauty: where there was very little in the way of makeup for most designers, the Kate Spade girl has heavy eyeliner and seems to stick to her own quirky look.  While the natural nail reigned on the runways, the Kate Spade girl loves the white polish from this past summer and keeps wearing it.  Stuck in the past or just in her own ways, it's nice to know that there's a space for those who want to do their own thing.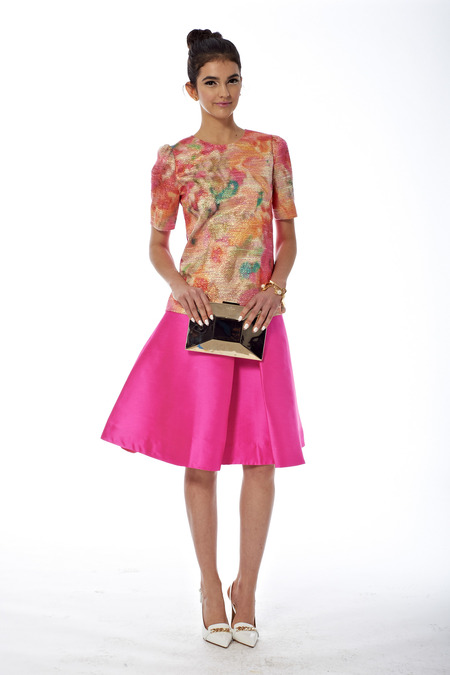 Another round-up coming next week!
And with the change of every season, there comes some resolutions – a chance and will to do better and more.  This fall I'm drinking more water, watching what I eat, and getting back into the gym after a long time.  I'm taking with me my new Rainbow Active Top Collection by SIGG because it has a straw that lets me drink water without even tilting the bottle.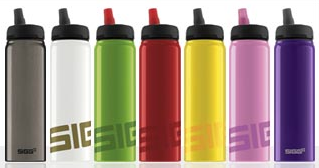 $28.99 at various retailers.