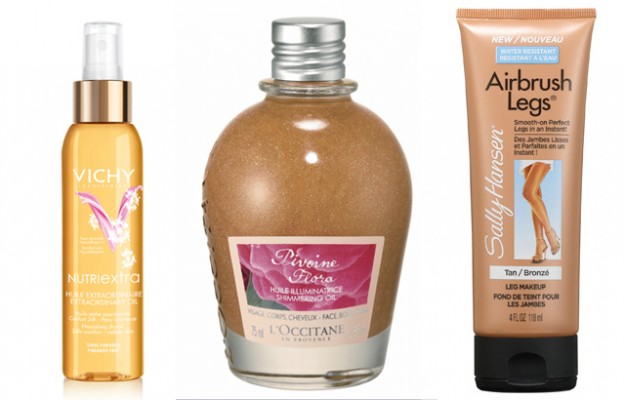 For obvious reasons, when summer time hits, we become obsessed with getting our skin to look absolutely flawless.  We're talking smooth, golden, shimmering skin – without any sun damage, of course.  Here are three products to help you reach your goals.
1. Vichy NutriExtra dry oil ($29.50).  We love dry oils because they make skin look great (luminous!) without leaving it feeling greasy, but they don't always pack the moisturizing punch that we'd like.  Vichy's NutriExtra oil is different though.  Unlike most dry oils, it's formulated without silicones and actually has plant oils that can penetrate the skin. There are nine different oils in the mix: Rose Hip, Jojoba, Almond and Apricot, Macadamia, Passion Fruit Kernel, Blackcurrant Seed, Rice Bran, Sunflower, and Coriander Oils. Despite this, the oil is still remarkably lightweight – the proof is that it comes in a spray bottle so you can mist it on.
2. L'Occitane Pivoine Shimmering Body Oil ($22).  When moisturizing isn't enough, there's L'Occitane's lovely new shimmering body oil that is scented with their best-selling Peony fragrance.  It's light enough to be used all over, and doesn't have too much of the golden glitter so it won't get all over your clothes.
3. Sally Hansen Airbrush Legs Lotion ($13.99).  This is the best thing ever invented.  We always loved the idea of spraying on cover-up on to our legs, but never took the plunge because of the mess that might have been involved.  Now, there's a lotion that does the same thing.  Think of this as foundation for your legs.  It goes on slightly orange, but ends up looking totally natural.  Work it into your skin before it dries, step back, and admire your newly tan legs (and feed!) – they look flawless.  The best part is that this won't rub off on your clothes but will wash off in the shower when you're ready for it to.