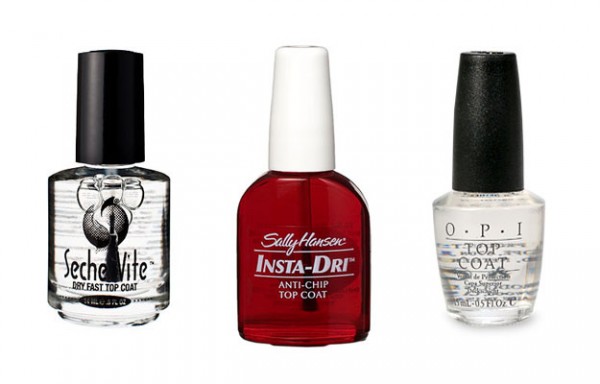 Seche Vite Dry Fast Top Coat: This is one of the most well-loved top coats available. It's one of the fastest drying top coats I've ever tried, and is really fabulous at smoothing out a manicure without smudging colours and nail art. That said, I probably wouldn't buy this again. For me, it's super shiny for the first day or two but dulls after that and if I don't remove it after a few days, it has a tendency to make my nails split and break. Also, as far as nail polishes go, it has a very strong, rather unpleasant chemical scent. However, many, many women swear by this top coat, and I really did want to love it. It wasn't great for me, but don't let that stop you from giving it a try if you still haven't found the top coat love-of-your-life!  $11 at nail bars and salons.
Sally Hansen Inst-Dri Anti Chip Top Coat: Basically does all the things that top coats are supposed to do, and can be found easily found at any drug or grocery store on top of that. It doesn't thicken halfway through the bottle like most top coats tend to, and makes your at home manicure hard, shiny and fabulous. This one actually gets compared to Seche Vite a lot as the "cheaper" alternative, but I honestly think it does an even better job than its hyped up counterpart and it doesn't weaken my nails afterwards. It dries just as fast as the Seche Vite, so say goodbye to sheet marks and dents in your nails. My only criticism is its tendency to leave tiny bubbles in polish. $5 at drug and grocery stores.
OPI Top Coat: I love OPI Polishes, but I do not love this topcoat. First off, it takes forever to dry, so after you use it, be prepared to sit around for an hour at minimum.  I don't find it to be as shiny as the other two top coats, and this also has a tendency to bubble. It's not bad on bare nails, but the only reason I've kept the bottle is because I love the OPI ProWide brush. I realize that this isn't a rapid dry top coat like the other two, but it's really kind of a disappointing offering from OPI. $9, nails bars and salons.