If you're not using some kind of Vitamin C product on your skin already, what are you waiting for?!
Adding vitamin C to your skincare regimen is the easiest way to add an antioxidant to your skin and improve its texture and luminosity.  It also increases collagen production and helps protect skin against oxidants which can cause damage to the skin and increase signs of aging.  It's one of the few skincare ingredients that has been shown to work time and time again, and there's a good reason that any and every high-end skincare company will have a vitamin C product in its line – even if you have sensitive skin, you can use vitamin C in some form and see it make a difference. In fact, vitamin C can repair damaged DNA, says Robin White Director of Global Education and Press for philosophy. Instead of your damaged cells replicating to make more damaged cells, vitamin C can repair the DNA in those damaged cells. It's no wonder that Philosophy boasts a number of products that have vitamin C as an active ingredient, and the new Time in a Bottle comes with its own little vial of vitamin C that you mix into the serum yourself.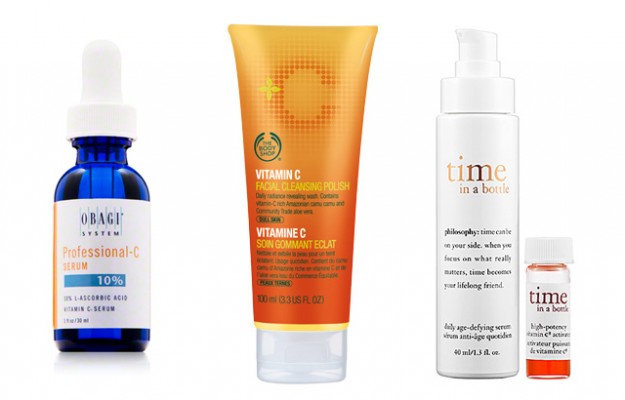 So here are three vitamin C products that we love and have made a serious improvement in how our skin looks.
1. Philosophy Time in a Bottle.  This is a brand new serum that comes with its own little bottle of vitamin C that you mix in when you first open the package.  By pouring the vitamin C fresh, you ensure that you don't give the Vitamin C a chance to oxidize before you're ready to use the serum.  The vitamin C will stay stable for 3 months, but the serum is a 2 month supply (if used once daily) so you can be assured that you're using a product that will still be making a difference to your skin.  $74.
2. Obagi Professional-C Serum.  This serum comes in a 10%, 15%, or 20% formula and is housed in a dark blue bottle to keep the Vitamin C stable.  Sticky at first, it feels like nothing on once it absorbs into your skin.  Start with the least potent and work your way up to the highest potency for best results.  $72 and available only at dermatologists' offices or at med spas.
3. The Body Shop Vitamin C Facial Cleansing Polish.  This polish has super-fine beads in it to really help your skin look and feel smoother.  It retails for just $16 but can go head to head with other more expensive scrubs.