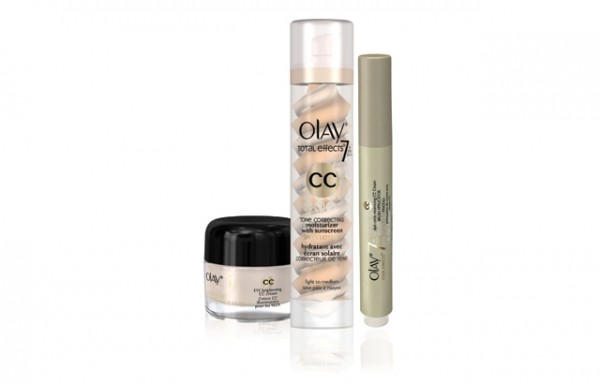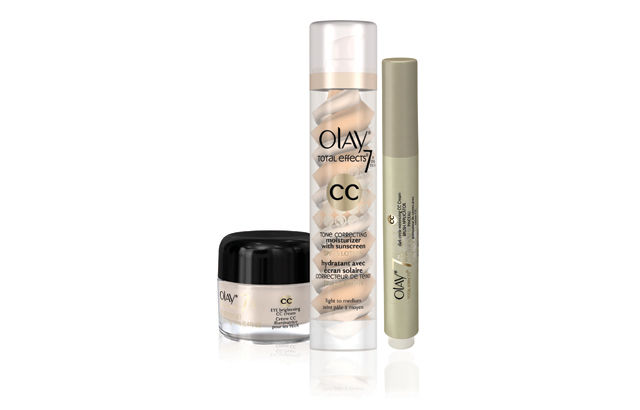 No, your eyes aren't deceiving you: instead of three products to compare, today I'm just doing two. When I saw that Olay had two CC creams for the eye area, I of course thought to compare check them out and compare them.
You should know: they're both awesome. Light, brightening, with almost no coverage, they are truly colour-correcting and hydrating at the same time.
The first is the Olay Total Effects Dark Circle Minimizing CC Cream Brush Applicator. As the name suggests, this comes in a click pen container that has a brush attached to help you apply the cream under your eyes. The cream itself is very light and refreshing. It has a whitish/golden shimmer in it that helps the eye area appear brighter, but if you have serious dark eye circles (and I did when I used this), then it will not be enough coverage – but that is fine. You've added a layer of brightness to an area of your skin that needs it, and even when you apply concealer or foundation on top, you'll find that this eye cream will still lend its brightness. It didn't get rid of the darkness under my eyes in the longer term, but I'll take the hydration and the temporary brightness because I needed them both.
The Olay Eye Brightening CC Cream is equally great. It comes in a pot container and has a slightly peach tint in addition to its superfine shimmer. It provided more of a brightening effect than the cream above, and that's because there's a bit of pigment in this one. This cream is also richer although not greasy or oily. In fact, both creams absorbed into my skin quickly and I was able to continue my face routine after applying them. Like the cream above, this also won't be enough if you have serious dark eye circles but is a better mitigator.
So which should you choose?
If you seriously don't wear makeup on a regular basis anyway and would like to brighten your under eye circles, then go with the Olay Eye Brightening CC Cream. It's also the one to choose if you're dry under the eyes.
If you like pen applicators because they're quick and easy, and you need something that gives you a refreshing burst of moisturizer, then go with the one with the brush applicator. It's also the one to choose if you don't need much hydration but just a pick me up for the under eye area.