I think we can all agree that this fall has been better than most.  It hasn't really snowed or rained too much, and we've all enjoyed lots of sunshine and seen the leaves change colour slowly.
But now the leaves are actually gone from the trees, and there's a distinct nip in the air. That means that it's time to bring out the intense moisturizer and I'm constantly rubbing it into my hands to keep them hydrated.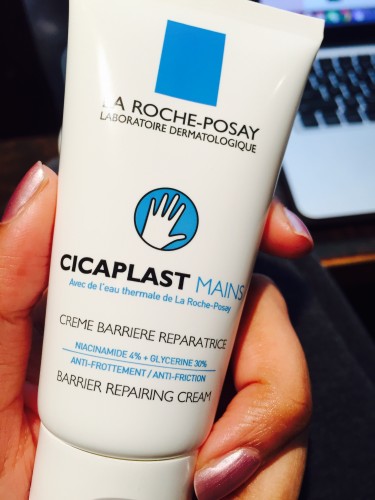 If you too need to pull out the big guns, then turn to La Roche-Posay's Cicaplast mains which is a great barrier cream.  Revered in France, this no-nonsense cream is now available in Canada!
It will prevent moisture from escaping your hands and will keep them feeling comfortable.  The cream is made of 4% Niacinamide and 30% Glycerine. The Niacinamide is what makes this hand cream better than most of what's out there, because it's been proven to improve skin's elasticity, enhance barrier function, and even makes skin look younger because it helps erase discolourations and helps improve tone and texture.  If you think you've heard of the ingredient before, you're right!  It's usually in anti-aging creams!  What's good for your face, is good for your hands too and with continued use, this cream will help your hands look better than they ever have before.
The cream is scent-free so you can use it and keep using it without feeling like you're actually applying perfume, and just adds to the clinical feel of this cream.  It's made to really work on super dry skin and last a long long time, and with that it delivers.
The cream kind of reminds me of Vaseline – it's a clear gel that feels slippery but unlike Vaseline, it's not greasy at all.
Available in pharmacies and drug storesfor $11.99.