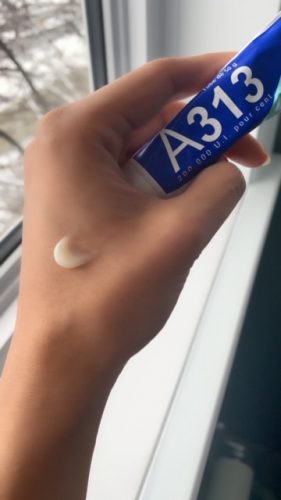 I'm using French retinol A313, and my skin is actually loving it. The weather these days is dry so my skin is more dry than usual. You can see in the picture above that it has a thick rich texture, which is slightly sticky when you apply it on your face. If you apply just a pea-sized amount, you'll see that the pomade absorbs and leaves your skin feeling soft and smooth.
You also have to apply this on completely dry skin – one Instagram user recommended that I let my skin dry for an hour – but that's just not happening. I wait about 20 minutes and then I apply the pomade, and I'm finding that's working just fine. I also like to apply hyaluronic acid right on my skin before I use this because it adds a bit of moisture on my skin and the texture of the pomade seals it in.
If you don't wait for your skin to dry before you use this, you'll find that it becomes really itchy and you don't want that. You'll be scratching or touching your face almost constantly and that's what you don't want, especially considering the pandemic that's been going on. Wait for your skin to dry and things will be better.
There might also be flaking when you use this – it's only a 0.3% over-the-counter retinol but it's pretty irritating so I found that I had some flaking after just 3 days of using it. A bit of irritation doesn't bother me because it lets me know that it's working, but I didn't use any acids or vitamin C's when I was on the regimen. I just stuck to my hyaluronic acid in the morning and at night and then used a hydrating cream in the morning. You could even use an oil and then put sunscreen on top. That worked well for me.
A313 is French but it's available on Amazon!  I have linked to it so that it's easier to find.