The last time I had an encounter with Kerastase's Chronologiste line was in 2010 when the serum had silver pearls that exploded when you rubbed them between your fingers.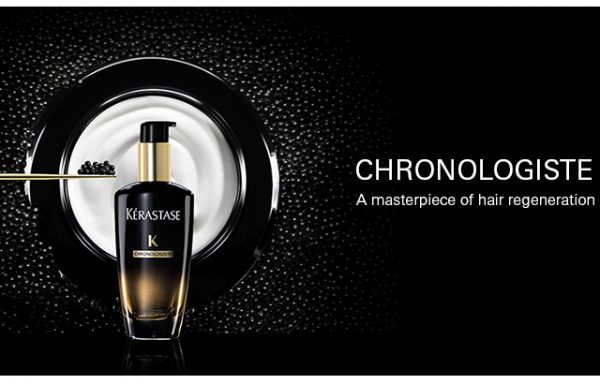 Now, high-end perfumery and good hair care merge in the new version of Kerastase's Chronologiste line of hair care products.  Packaged in chic black and gold bottles, Chronologiste promises to use "rare elements, an essential cream and mimetic caviar pearl" to restore and treat hair.  
The line is definitely different than what's out there.  It includes a pre-shampoo (which you lather into your scalp and then rinse out after five minutes), a clear but moisturizing shampoo, a thick conditioner (that has the consistency of body butter), and a Oil-Perfume Serum to treat your hair after you get out of the shower.  Truly, it's a luxe line that makes you feel as if you're really taking care of yourself and your hair.  
The Rinse Out Pre-Shampoo ($50) is a thick gold glitter jelly (it's gorgeous, really!) that lathers but has scrubby pieces in it that help to exfoliate the scalp.  It's really made to eliminate product build-up at the roots.  You start by scrubbing it into your scalp and then work the lather through your ends.  I don't know what it does, but it seems to make my hair super clean so that it's ready for a more moisturizing shampoo.  
 The shampoo($50)  that follows this treatment is clear but moisturizing.  It feels different than the rinse-out treatment and is better for doing a quicker all-over cleanse.  I like that it seems to smooth my hair a little bit.  If the thought of a rinse-out treatment and a shampoo sounds excessive or drying to you, know that they don't feel that way.  The two actually work in conjunction to layer the special Chronologiste ingredients on your hair.
The conditioning hair mask ($70) is described as being the "crème de la crème of Kérastase masks" and is super thick and buttery.  It smooths hair as much as a post-haircolouring mask might and gives lasting softness and shine to your hair.  I love using it and the glorious scent that's in it too! 
The Perfume Oil ($70) is the final step in this system and it's my favourite.  All the Chronologiste products are scented with a woodsy oriental scent that smells more like luxe perfume than hair care products.  The Perfume Oil is a serum that not only makes hair smoother and easier to deal with, but it also ensures that a lasting layer of scent will be added to your hair.  I find that the perfume is strongest on the day I wash my hair, and noticeably dissipates on day 2.  It's almost gone on day 3.  Although the bottle says that this is an oil, the ingredient list shows that it's made up of dimethicone too, so I use it more like a smoothing serum than just a perfume.  It's heavier in texture so a little bit goes a long way, and I use this mostly on my ends, and use Kerastase Nectar Thermique on the rest of my hair (because it makes my hair super soft too).  
You can pick up the entire line at a hair salon that carries Kerastase or online.  You can also order online now and get free shipping on products over $75.  
What hair care products are you using now?