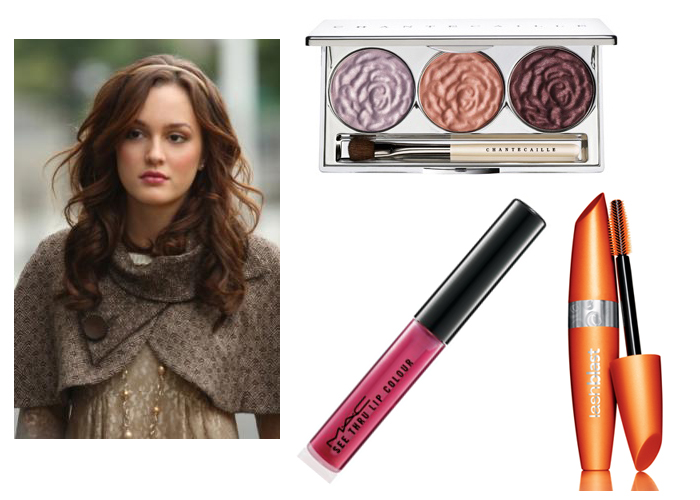 Yes, I am a Gossip Girl fan, and I love all the characters and their looks. I especially love what Leighton Meester's makeup artist does on her. Meester has beautiful lips and they are always played up instead of the eyes. It takes a lot of restraint for me not to do my eyes, but I love that the end look on all the characters is one that's fresh and pretty. It's something I'm trying to incorporate into my own look since I tend to go more dramatic (my all-time favourite look is a smoky eye and I can do one with many colours).
For today's look I skipped eyeliner on my eyes all together and instead dipped my wet eyeliner brush into a dark eyeshadow and use that to put a sheer wash of a line on my lids. The effect was just what I hoped for although it did take some getting used to. The eyeshadows used on Meester are also sheer and mostly matte. You will never see Blair Waldorf wearing glitter or sparkles. I found that Chantecaille's Shadow And The Rose palette let me do this look exactly.
Products used:
Chantecaille eyeshadow in lilac from Shadow And The Rose palette all over the lid. The darker colour used to line the upper lash line and just a bit on the outside of the lower lash line. The sheer peach blush on the cheeks.
Lash Blast Length mascara just on the upper lashes.
On lips, MAC See Thru lip colour in Secret Crush (from the Rose Romance collection).