Blush.  It actually drives me crazy.  I love how it looks on other people (most of the time) and sometimes I love how it looks on me, but every once in a while I catch an image of too much blush, and I decide never to wear blush again.  Plus, I like matching my blush to my lipstick, and my lipstick changes according to my mood, the weather, the time of day, so that makes matching blush a little impossible.
But then when I find a blush I like… well, then I'm on the blush bandwagon again.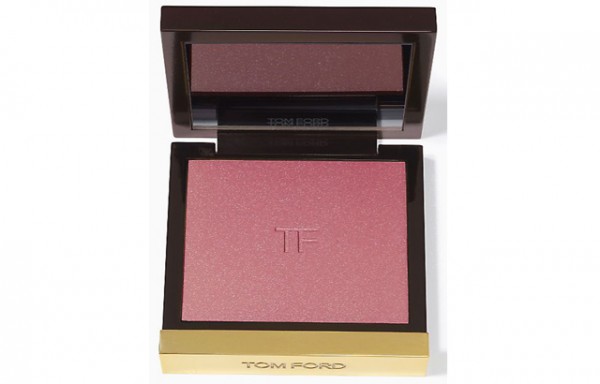 Tom Ford Blush has got me back on the bandwagon.
At $65 it's probably the most expensive blush that you will own, but the pan is nice and large so you can properly pick up enough product on your blush brush, and the blush is pigmented just-so that you can layer on lots or wear very sheerly and create a seamless finish. The lasting power?  Basically all day.
Some of the colours do have shimmer in them.  The shimmer is not undetectable, but it's not nearly as distracting as, say, Nars Orgasm shimmer.  I have the blush in Ravish, and it's kind of a dark pinkish plum with a bit of coral in it.  It's natural looking on deeper complexions but anyone with a medium skin tone or lighter will need to use it with a lighter hand.  The shimmer is lighter than the blush and makes skin look pretty and glowy.
Is this the only blush out there that can deliver?  Probably not… but if you have to have Tom Ford, then know that this blush is a great one.  It's velvety, smooth, and just so easy to use.
Tom Ford products are sold at Holt Renfrew Bloor St. and Vancouver locations.