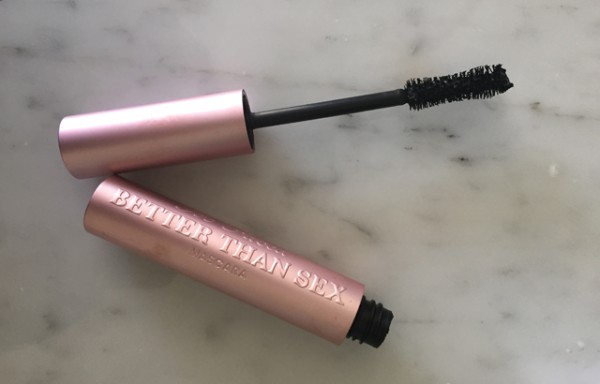 With such an eye-catching name, it's hard to ignore the Too Faced Better Than Sex mascara because it promises to make your lashes look amazing, and so many online reviews are raving about it. 
This mascara truly is gorgeous.  It has a thick wand that has separated bristles that are quite long, so you can immediately apply tons of product to your eye lashes and make them look amazing with just one stroke.
If you don't like lots of mascara and big thick almost-clumpy lashes, then this mascara might not be for you, but if you're into major lashes then this is your best bet. It also has an inky black colour that makes lashes look so good – really this is a dramatic mascara in the best way and I can't get enough of it even though it has a slight smearing issue which I'm trying to resolve with some powder.
My only issue with it was that it smears on me slightly as the day goes on giving me a bit of a shadow on my brow-bone, but other than that, it looks amazing and it's definitely the mascara that I reach for before going out. 
At $30, this mascara comes in a hefty metallic pink tube that reminds me of Giorgio Armani mascara, and it performs about the same so there's that to consider.  Pick it up at your local Sephora.