Lots of people are new to bronzer – or scared of it because it might look overdone or orange.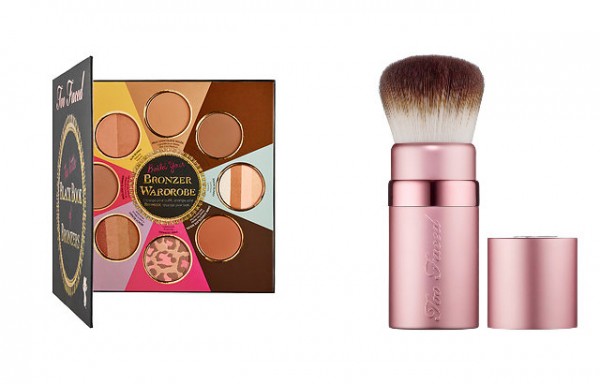 If that's you, then you need to check out Too Faced The Little Black Book of Bronzers ($60).  This palette contains 8 of Too Faced bronzers – including Milk Chocolate Soleil, Chocolate Soleil, and Dark Chocolate Soleil, which are cult favourites (try searching for them in Instagram and you'll find lots of make up artists and Youtubers that use them).
The other bronzers are Pink Leopard, Beach Bunny, Endless Summer, Sun Bunny.  Besides Endless Summer (which is a long-wearing bronzer), the other bronzers are shimmery and can also be used as high-lighters or blushes, which makes the palette really versatile.
The palette is a great intro to bronzers in general and will help you find something that works for you as a contour and/or true bronzer.
I've discovered that Endless Summer and Milk Chocolate Soleil are my favourite bronzers – they're matte and just the right shade of brown for me to use them as contour.
I've also been using the Too Faced Kabuki brush ($40) to apply a dusting on my whole face from time to time, and I love how perfectly it buffs all my makeup so that it is seamlessly blended.
Pick up the both at Sephora.