Wynzie has chosen her best beauty products of 2010, and since she's usually into the high-end lines, I couldn't wait to see what she picked.  Surprisingly, there are some drugstore products on her list too, so check it out!  I'm going to put up my list soon… ironically, our lists have nothing in common!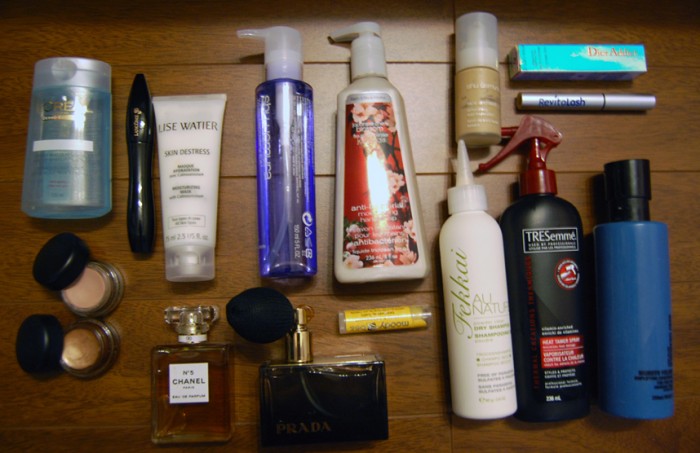 1. Mac Paint Pots
Paint Pots are pretty, cream eyeshadows that double as eyeshadow primers. But the best part is, for days that you're too lazy or just don't have time to apply eyeshadow, the paint pots can stand on their own as eyeshadows. They come in a bunch of pretty neutrals, and Mac comes out with limited edition ones with many of their collections, and are always worth stocking up on.
2. Moody Bee Lip Balm
A new favourite, but a favourite none the less. It's amazing during Canadian winter because it heals cold and wind chapped lips almost as soon as you put it on.
3. Smith's Minted Rose Lip Balm
A cult favourite, probably because it works really, really well. It moisturizes lips and leaves a light, pretty pink tint and slightly glossy lips. It's just a tiny bit minty which is great for those that like a little zing in their lip products. The slight niggle is that it comes in tin format, which makes it a little dirty to apply when you can't wash your hands.
4. Bath and Body works Antibacterial moisturizing hand soap
This hand soap comes in a ton of different, yummy scents, but that's not the best part. It's both antibacterial AND moisturizing; it usually contains either shea butter or coconut oil. This makes it kinda great for hands, but really truly amazing for cleaning makeup brushes because it both kills germs, and it keeps your brushes in good condition by not drying them out. Definitely cuts down on products around the sink, in any case!
5. Shu Uemura Face Architect Foundation
I have still yet to find a foundation I like more than Face Architect. It goes on sheer and can be built up, and never looks cakey or like anything other than skin. Also, the foundation is tested on Asian skin, so it has an amazing range of tones for golden skin (as opposed to pink).
6. Dior Addict Lip Maximizer
Lip Maximizer is probably the only lip gloss I don't mind paying $30+ for. Because it contains a bit of hyaluronic acid, it's super hydrating and fills in all the little cracks that everyone has in their lips. It smells like vanilla mint and like most lip plumpers, comes with a bit of a tingly feeling when it's applied. Does it really plump lips? Sort of, because it does fill in all the little cracks. It's not going to give you Angelina Jolie's pout though, so don't expect that.
7. Shu Uemura Muroto Volume Amplifying Conditioner
Apart from smelling like angels and sunshine, this conditioner is also extremely lightweight, extremely moisturizing, and absorbs super-fast. What more could you possibly ask for in a conditioner?
8. Shu Uemura Brightening Cleansing Oil
I really like Shu Uemura products, in case you hadn't noticed. The brightening cleansing oil is my stand-by favourite, for whenever my tricked out cleanser of the moment stops working or starts to bore me. I love it because it removes makeup, as well as sebum and dirt on the face in one quick step. More cleansing, less work.
9. Fekkai Au Natural Dry Shampoo
Sometimes dry shampoos make your hair greasier over time because of whatever fragrances or silicones are in them, but the absorbing ingredient in the Au Natural dry shampoo is cotton. It has no offensive smells, and continues to work even if you sleep on it. In short it does exactly what it's supposed to do.
10. The Body Shop Hemp Mitt
The Body Shop Hemp mitt is one of those upsell products that sales associates always try to push on you, but honestly pretty great. It dries much faster than the regular exfoliating bath gloves and lasts longer because it can be washed more easily. The hemp body gloves are also sourced from community trade partners in Bangladesh and are pesticide free.
11. Lise Watier Skin Destress moisturizing mask
This mask contains a peptide called calmosensine, which has been proven to soothe the skin and relieve stinging, heat or uncomfortable skin. My skin has been winter/exam stressed as of late, and I use this mask at least twice a week, which helps to keep it clear and free of blotchiness.
12. Lancome Hypnose Drama Mascara
This has become one of my favourite mascaras as of late, because it makes my lashes look amazing every single time I use it. It's not waterproof, technically, but it survived a hot yoga class, which is good enough for me. It REALLY gives you a false lash effect, even for people like me who have basically no lashes.
13. Garnier Fructis Damage Repair deep repair mask
The deep repair mask only needs to be left in for a minute, which is excellent for pretty much everyone, and leaves your hair incredibly soft and refreshed when it's rinsed out.
14. Chanel No. 5 Eau de Parfum
Apparently there is a bottle of this sold every 30 seconds, somewhere on the planet. I'm not sure if that's true, but when it comes to fragrances that are all woman, this has to be number one. It has top notes of aldehydes, bergamot, and neroli; a heart of jasmine, lily of the valley, and rose, and a base of vetiver, sandalwood, vanilla, and amber. If you have a hard time picturing it based on the names of a bunch of flowers think of it this way; this is what I wear when I'm channelling Marilyn. It's the perfect fragrance to make you feel like the fabulous, beautiful woman you are.
15. Prada L'Eau Ambree
This is the perfume I like to wear during the day, as it's not quite as overpowering as Chanel No. 5. I like that it's soft smelling, and very subtle. The opening notes are very ambery, but it warms to a more floral scent after a while. It's pretty, refined and elegant. Prada L'Eau Ambree has notes of mandarin and lemon essences from Italy, May rose absolute, gardenia jasminoide, amber, patchouli leaves from Indonesia, vanilla, opoponax from Somalia.
16. Bobbi Brown Ultra Fine eyeliner brush
I've been a fan of the rounded head eyeliner brushes for a while, especially for gel-liners. Bobbi Brown's is the cult favourite, and while I've heard they're out there, I have yet to find one that I like more. The rounded brush makes eyeliner a lot easier to apply vs traditional fine liner brushes. Try it once and you'll be converted too, I promise.
17. Tresemme Thermal Creations Heat Tamer Spray
This heat tamer spray is one of those awesome drugstore finds that actually works. My hair is drastically softer and shinier when I use this spray before flat ironing or blow drying my hair and it works just as well as anything from the salon. Also, it doesn't stink, which is a big gold-star in my book. Plus the drugstore price is really nice.
18. Vaseline Intensive Rescue extra strength body lotion
I've tried so many different types of body lotions, but I always come back to this, my old favourite. It keeps skin from acquiring that cracked, dry look even during the winter, and I have yet to find anything that absorbs as fast, works as well, and has a smell as neutral.
19. L'oreal Gentle Waterproof Eye and Lip Makeup remover
A dual-phase oil and lotion remover that has a layer of dark oil, and a layer of light lotion that removes every last trace of mascara and long lasting eye-makeup, and doesn't leave any greasy reside. It's also easy to find at most drug stores, and I love it so much I haven't tried anything else since I discovered it, 2 years ago. How's that for dedication?
20. Revitalash Eyelash Conditioner
I've been using Revitalash for about 3 months now, and had originally written it off as something that didn't work for me, because it took about 2 months for the results to show up. But I'm so glad I stuck with it, as my lashes are now thicker, longer and stronger than ever.