Fall is here, and it's time to revamp our beauty drawers.  For me, that means I'll try to narrow it down to one sunscreen, introduce a heavier moisturizer into the mix, rematch my skin to a new foundation, and add some liquid liner to my drawer.  I also want a more bold lip colour and I'm going to store away all the nude lip colours I have.
I was getting ready to go out the other day, and I kept taking pictures of myself to check how my makeup looked.  I was surprised at how washed out the colours made me seem, reminding me that a nude lip is really best with a really dark smoky eye – and that's something I haven't been doing too much of lately.  I think a bold lip is much more suited to this fall's trend of wearing a cat eye anyway, so away go all those nude lippies (I had about 5 or 6 in there, and only a couple of bold lip shades).
Anyway, without further ado, here are the 4 (that's right just 4) products you need this fall season.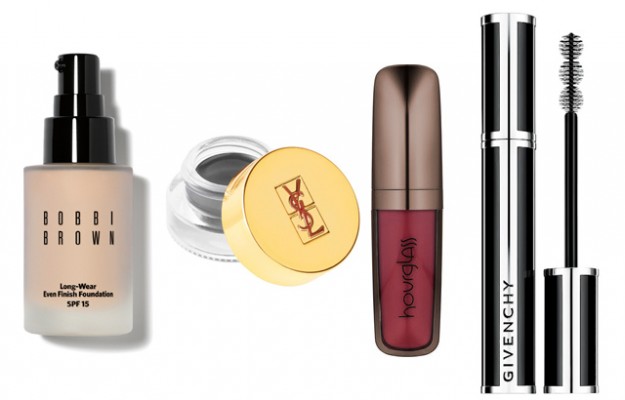 Here's what you need:
1. A Long-Wear Foundation.  That's right, fall calls for a more polished look and the BB Cream or tinted moisturizer you've been wearing isn't going to cut it anymore.  There's a plethora of new long-wear foundations on the market.  Everyone from Burberry to Bobbi Brown to Stila has one out.  The new formulas are weightless and easy to wear.  I, personally, am gravitating towards Bobbi Brown's because it's easy to wear and looks almost like my own skin.  Plus it comes in lots of colours so that it's easy to find one that works for you.  A winner!
2. Black Liquid Liner.  And by liquid, I don't mean liquid.  It's harder to use so you're going to have a tough time really mastering that cat eye you're seeing everywhere. Instead go for a gel liner and use a slanted brush to apply.  My favourite which I keep bringing up (because it rocks and is seriously so easy to apply) remains YSL's Eyeliner Effet Faux Cils Long Wear Cream Liner.  My original review was posted October 2011, which means that I've had it for about a year, and it still hasn't dried out.  It's $34, but I've barely made a dent in it, so it's totally worth it.
3. Bold lip colour.  Your best pick is Hourglass Opaque Rouge in Empress which is a pretty Aubergine colour.  This is my all-time favourite fall product.  It's a full coverage liquid lipstick that has a matte finish.  Though they say that it has up to 14 hours of wear, I found that it lasted well through a meal, but that was about it.  Still, the formula is pigment-packed which is a must if you're going to wear a dark colour on your lips this fall.  The Opaque Rouge blows every other long-wear formula out of the water because it's absolutely not sticky.  It's not like those lipsticks that needs a topcoat, though you'll have much better luck with this is your lips aren't flaking, and you might still feel some dryness after applying the rich formula.  ($33 at Sephora and totally worth every penny).
4. Seriously volumizing mascara.  There are two new awesome ones on the market: Extreme Volume High Impact Mascara from Clinique ($23) and Givenchy's Noir Couture ($35).  Both have so many bristles that you can use them to get every single lash which means you'll look like you have more lashes than ever. Clinique's is more of a wet formula so it might be difficult to use if you already have short lashes.  The dry Givenchy formula is easier to work with.  If you already have long lashes and just want some oomph, you'll find that Clinique does a great job with just one swipe.