I love L'Oreal's Infallible line because its made up of products that lasts a long time on all skin types and I've lately become a fan of their Total Cover Professional Color Correcting Kit and the Total Cover Concealing and Contouring Kit.
I'll start with the Concealing and Contouring Kit – you can see how excited I was to use it: I've already dipped into it before I thought of taking a picture, and it's quite smudgy.  The sponge that comes with mine is totally unused.  I found the square shape of it made it a little bit difficult to really dip into the colours accurately, so it's better for me to dip my fingers in and mix up my own colour.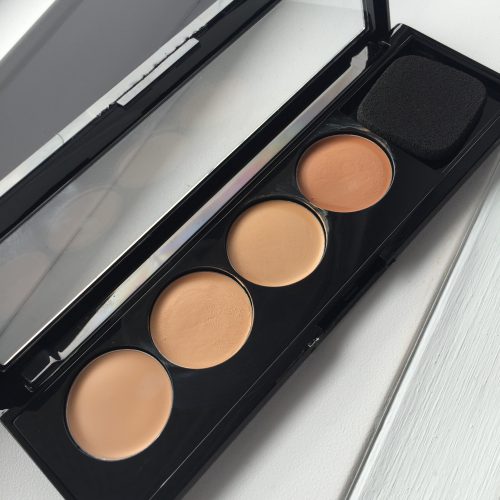 The formula is soft and kind of greasy but super pigmented and very blendable.  I really like mixing up the shades to make a colour that I can use as a foundation, but it's also very easy to use these as highlight or contour colours.  The darkest shade in this palette is quite warm, so it doesn't look like a totally natural shadow, not to mention the fact that if you have darker skin, then it won't work as a contour colour for you.
Aside from that, and despite the very emollient texture, these are really easy and fun to use, especially if you really like playing with and mixing your makeup. The colours go on easily, and once you set them, they stay on for the whole day.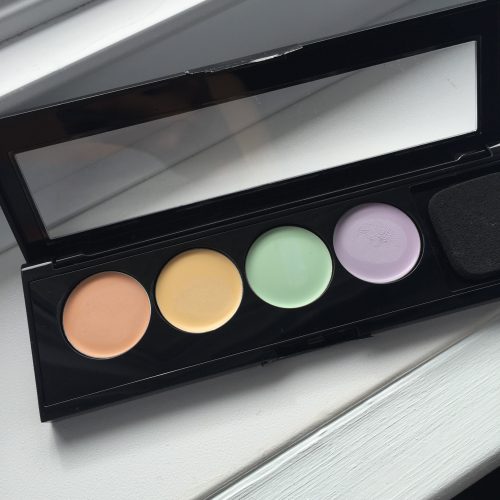 The colours in the Total Cover Professional Color Correcting Kit are similarly slippery and easy to mix.  They are very pigmented so they'll do a good job correcting any kinds of dark circles or pigmentation issues.  You will need to use these, let them set, and then use foundation on top.  I really like using the salmon colour as a dark circle corrector, but there's a similar shade in the Conceal and Contour palette, so if that's all you need then you probably don't need to double up on palettes.
Overall, these are a hit – the colours are easy to blend and use, and they're pigmented enough to take care of any concealing that you might need.
$19.99 each at Amazon.ca or mass retailers all over Canada.