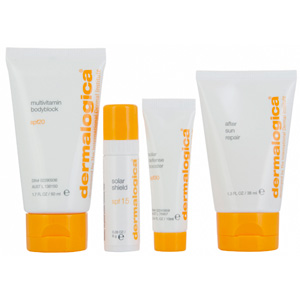 If you're going to someplace sunny, you're already going to pack sunblock, and I really like Dermalogica's Daily Defense Kit as an option.  The best part is that the sunscreen included is totally clear on the skin so it's going to look good in pictures.  The other thing to keep in mind is that this kit is small enough to throw into your beach bag, and be covered for the entire day!
The Daily Defense Kit includes their Daily Defense Multivitamin Body Block which is an SPF 20, the SPF 30 Solar Defense Booster, Solar Shield Lip Balm, and the After Sun Repair which is a gel moisturizer that can help calm irritated skin.
The entire kit costs less than $20 and is totally worth it for some really well-formulated products.
I'm not sure whether Dermalogica sells this all year round, so you might have to order it online instead of getting it at your local Dermalogica retailer.