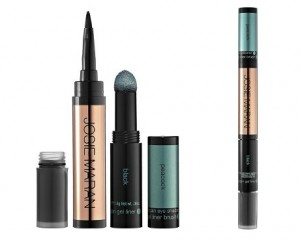 The latest in my jet-setting bag: Josie Maran's R.E.M.: Rapid Eye Makeup Pen.  It's an eyeshadow, eyeliner, and eyeliner brush all in one.  The eyeshadow even comes with its own sponge applicator which is nothing to write home about but does the trick.  I really wanted to like the creamy gel eyeliner but it doesn't last the whole day.  I like it, and it looks pretty.  The liner gives a soft focus line instead of a hard thin one, but that was okay with me.  I could work that look.  But this didn't last more than 8 hours and when you've out and about on vacation, that's just not enough.
Still, if you don't have oily eyelids, chances are that this will last on you and will look great!
I really liked the Black + Amethyst for a smoky look, and the Burgundy + Dusty Rose is to die for!  The Dusty Rose is almost like a golden rose colour and looks really good on the eye.  It makes it look awake and bright!
I adore that all the colours are coordinated for you, because you can literally throw one of these into your makeup bag and your eye makeup is taken care of!  There is no other product that can do that for me!
Pick these up at your local Sephora for about $40.