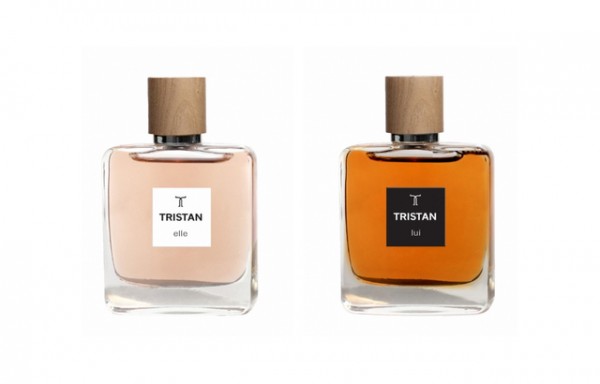 Wednesday night the epic shopping party of the year, Twas the Night, saw the launch of Tristan's new fragrance. With a version for Elle and for Lui, Tristan introduced a new classic into the world of perfume.
The women's version is absolutely floral but with a more masculine unexpected dry down. It is at once classically feminine and then… not.
The opening notes are light lemon and rose and the floral nature of the scent hovers in the air. After that, the drydown of musk, patchouli, and a lot of woods enter the scent. I love this perfume because it's not at all sweet and is very grown up. Wynzie said it reminded her of her mom (that was a good thing), and others have said that it reminded them of Chanel No. 5, although it's definitely not No. 5 because it lacks that synthetic feel that the blend of Chanel No. 5 has.
The men's version is even more fun to wear. The wood notes are more pronounced and that is always perfect for the winter.
At the launch, people couldn't help but comment on how grown up the perfume smelled, and that it smelled a lot nicer than most in-house perfumes do. The scents definitely match the aesthetic of Tristan's clothes – work wear with fashion-forward appropriate trend pieces. When you wear their clothes, you look like a grownup, and now this is how you can smell like one too.
Both perfumes are available at Tristan stores for $55 a bottle.
And now for the giveaway – if you want to win a bottle of the Tristan perfume, leave a comment below. All I want to know is what you're favourite perfume is right now! I'll pick a winner in 1 week.