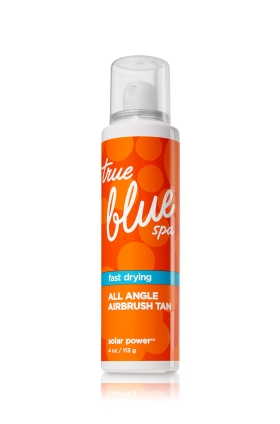 So, I think I've developed a bit of a habit for spray tans.  Don't hate.  It's hard not to reapply when you get so many compliments on it!  Every weekend, people ask me whether I went away during the week.  My response is always the honest one: "nope, it's a spray tan."  To which, I'm always met with raised eyebrows at the surprise that it could and does look so natural.  I think the next time I want a vacation, I'll check into some place local, turn off my phone, do a spray tan, and call it a day.
Clearly, I love the True Blue Spa All Angle Airbrush Tan, but it's not the best I've ever used and I'll get to that.
First, the positives.  The colour, obviously, is lovely.  It's not orange, but a natural kind of brown.  It really does look natural.
The spray itself is clear and easy to apply from all angles.  It dries rather quickly and you can get dressed less than 5 minutes after applying which is great.  It means that you don't have to worry about it rubbing off on anything.  It will stay on your skin and do its job.  The pump never stopped working for me, and I got a continuous spray no matter where I was spraying.
And now to the one negative.  The spray is clear, which I don't like.  It means that you can't see where you've applied the product and where you haven't.  You may have gotten the spray everywhere.  Or maybe you didn't.  There's no way of knowing.  Also because the spray is clear, you can't tell if you've applied a little bit of the product or a lot.  You may have applied the same amount everywhere – or maybe not.
That said, even though I was doubtful that this was doing a good job, it worked really well.  The tan was completely even (that's why it looks natural) and it developed within hours.  I liked that.  I also like that you can spray it really sheer and then just get light colour and then reapply as needed.  That means that you get a more natural tan progression instead of being really dark in one day.  Of course, you can layer on more product if you want more colour right away, but I find that it just doesn't look as natural.
Anyway, this is a must-have in the summer, and for $15 it is one of the best self-tanners out there.  Grab it at your local Bath and Body Works location, where it is likely on sale, since in the land of retail, the summer is almost over.