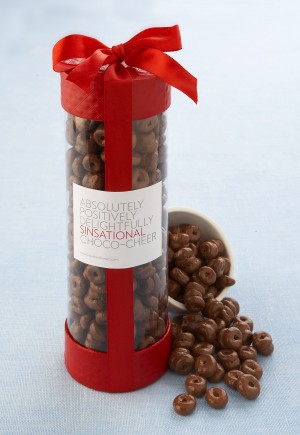 Okay, so I know you're not supposed to talk about the Holidays until after Halloween, but I broke that rule last week, so let's just go with it.
This week, I bring you some really unique products.
First, the one to your left here. Chocolate-covered Cheerios. If you read this and you know me, don't get me these for the Holidays. I'm not a Cheerios fan, nor a fan of milk chocolate. BUT, I did bring these home, and my entire family went nuts over them and thought they were the best things ever invented, so I think that makes them good gifts.
The Choco-Cheer is the greatest new candy invention, and guess where it's available?  Only at the CORE – specifically, Holt Renfrew of all places!
Get this for the person who has a sweet tooth, and starts each day with a big bowl of cereal.  I almost guarantee that they will love it.
Next, a gift for the polished fashionista type woman in your life – think someone who wears chunky jewelry and always has their nails done.  I recommend something from NEST fragrances.  They've got a high percentage of fragrance, and the scents are unique – they won't have your candied ginger, but they will have Orange Blossom which is super fresh and comforting all at the same time. Also available at Holt's, and if you're looking for a price range, the Reed Diffuser (in the orange box) is available for $40.
Finally, something for the man in your life.  Men are so hard to shop for, because they're so picky yet claim to be low maintenance.  Can you sense some frustration from me?  In any case, I think I've solved a problem: this is what you get for someone between the ages of 25 and 40 – cuff links.  Not just any cuff links, mind you.  Get the Moliere cuff links from Swarovski – and not just from any Swarovski store – only the store at the Core has these, and the rest of the fall men's collection, which features some other similarly cool products.  The cuff links shown are perfect: they'll match almost everything, and are even casual enough to wear to work.  Pick them up for a reasonable $95.
And again, my call to you, my readers: who's hard to shop for on your list?  Leave me a comment with their age range and I'll see what I can do to help you out!
Also: I'm giving away tickets to the T'was the Night party on November 30th, so leave me a comment and I'll pick a random winner in my next gift guide!