Although the Holidays is a time of giving, I would like to remind you that it's equally important for everyone to take care of themselves during the holiday season. The Holidays is a time for partying and fun, but it's also a time to rejuvenate and get refreshed for the new year. Here are the ultimate products to help you do that this year.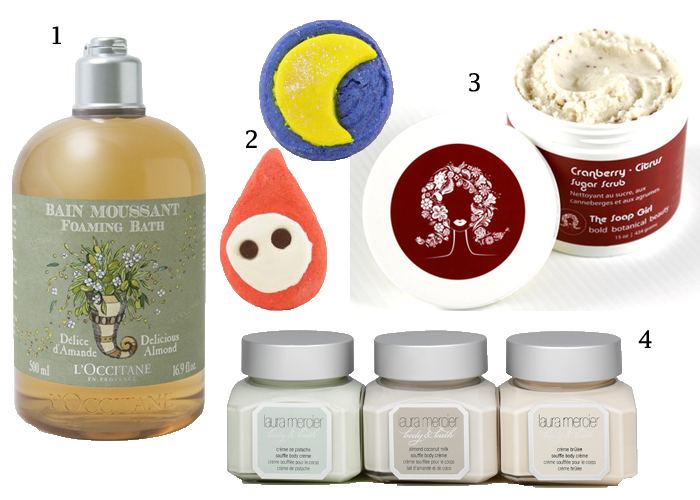 1. L'Occitane's Almond Foaming Bath. L'Occitane is always my stop for products that are moisturizing and what I love about the Almond Foaming Bath is that it's moisturizing and cleansing. The sweet Almond scent reminds me of cookies and that, to me, is a great way to start off the day.
2. Lush Gnome and Christmas Eve Bubble Bar. Bubble bars from Lush are definitely the ultimate in relaxation.  They scent your whole bathroom so nicely that the scent lasts for days after your bubble bath is over.  I use half per bubble bath and find that it's more than enough, but you could use the whole thing if you're feeling particularly indulgent.  The Gnome bar smells like a spicy fruity pie, while the Christmas Eve bubble bath is more fragrant in a floral sense. I hear that these also make great laundry detergents but at about $6 a pop I find that a little too expensive to use.
3. The Soap Girl Cranberry Citrus Sugar Scrub. Scrubbing your skin on a regular basis is the easiest way to get glowing skin, and this huge jar of sugar scrub will get you there in no time at all.  The Soap Girl makes no nonsense products that really work, and we love the festive scent of this cranberry scrub.  The big jar costs $29 and will last us through the whole Holidays!
4. Laura Mercier Souffle Body Creme Set. Laura Mercier is known for her amazing face products because her foundations are true to skin colours and last on the skin.  Her bath and body products are the ultimate in luxury and that's why you should get her Souffle set for yourself.  The set offers three scents, one of them being the new Creme de Pistache which is a high-end take on the sugary sweet smells that you can get everywhere else.  Yes, all the scents still smell super sweet, but they are more dessert sweet than the regular fruity variety and it's fitting for the holidays. This is available at Holt Renfrew.