There's no filter that can possibly make a mask selfie look good and so I haven't been posting any mask-wearing selfies, but I've been adding masks to my daily regimen and it's making such a difference.  
Masks are like boot camps for your skin.  They have the ability to triage any emerging skin issues and help your skin look its best.  For me, masks generally fall into two categories: hydrating or detoxifying.  A good hydrating mask can make your skin look more plump, and a good detoxifying mask can head off any breakouts by pulling excess oil out of skin for good.  It's a good idea to have both in your skincare regimen and use them as you see fit.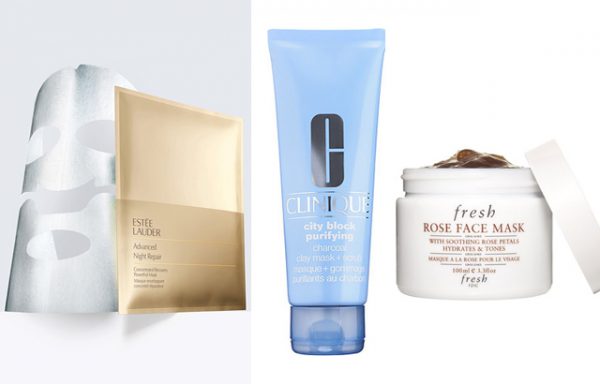 Here are three new masks for you to try. 
1. Estee Lauder Advanced Night Repair Concentrated Recovery PowerFoil Mask. This is the coolest new mask out there and deserves all the hype that it's getting.  The mask has a typical serum-soaked fabric mask that you then cover over with a foil mask (that's included) to lock in the moisture and prevent the serum from evaporating into the air.  As you leave the mask on your face, the foil helps it gently heat up and lets the serum soak into your skin. Like most cloth masks, once the ten minutes is up, you take the mask off, and rub the excess serum into your skin.  I used the mask once and noticed my skin was so much more hydrated and healthy-looking after using it.  
Besides the obvious and noticeably hydrating benefits, this mask contains antioxidants that can help ward off future damage to the skin so using this mask will actually help your skin look better int he long run, especially if you use the Advanced Night Repair serum on a regular basis too.
Pick it up at Estee Lauder counters.
2. Clinique City Block Purifying Charcoal Clay Mask + Scrub.  This mask and scrub is formulated especially for combination skin which has a tendency to look dull and greasy, especially after any time in the sun and heat.  The kaolin clay in this mask is excellent for absorbing oil and it also contains bamboo charcoal which you scrub into the skin as you wash the mask away.  The mask goes on dark grey and fades to a pale blue within five minutes, conveniently telling you that it's time to wash it off. The result is noticeably more clear and fresh skin – if you have problematic skin in the summer, then this is the mask that's going to get you through it. 
3. Fresh Rose Face Mask.  This is my favourite mask to use for a pick-me-up because its gel base is super refreshing and the combination of rosewater, glycerine, and cucumber extract just makes my skin look healthy.  It's for all skin types so if you're new to the world of masks this is the one to get you back into a routine.