Ok, masks are officially the must-have skincare products of the year.  Whether you're into paper masks, or the traditional spread-on variety, today's masks are what will take care of any skin-care problems you might have.  It could be the Korean influence, or just us realizing that having good skin is better than using FaceTune on a daily basis.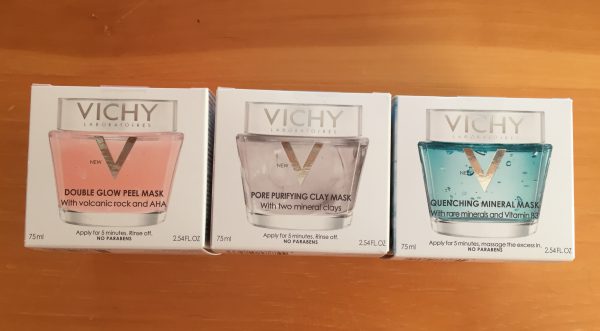 So Vichy now has everything you need for your mask wardrobe – whether you have dry, oily, or problematic skin, there's a mask for you.  The addition of finely ground up volcanic rock help scrub a little as you take this mask off, and vitamin C helps brighten your skin tone while it's on.
The Double Glow Peel Mask (on the very left) has fruit acids in it that give a slight tingle on your skin as they help exfoliate.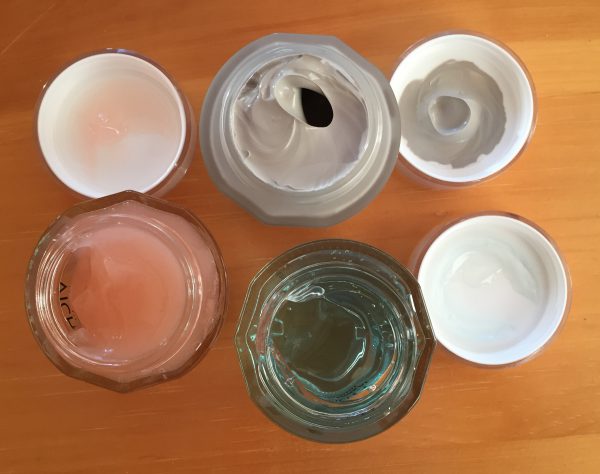 The clay mask is for pore purifying and leaves skin with a lovely matte finish.  Kaoline and Bentonite help absorb impurities and aloe vera smoothes and hydrates at the same time.  This is definitely the smoothest and best-smelling mask I've ever used.  It smells like sandalwood, and helps me relax.  I like to use this first thing in the morning, because my skin tends to get oily during the day, and this mask helps minimize that oil.
The Mineral Quenching Mask is the best one for dry skin, and is a mask that you can leave on overnight.  Apply on your skin, wait five minutes, and then just massage the excess into your skin to maximize hydration.  It has mineralized thermal water (a Vichy staple!), glycerine, and mint extract, so it really feels fresh and clean on the skin.
Masks are $34 each, at Vichy.ca or in pharmacies.