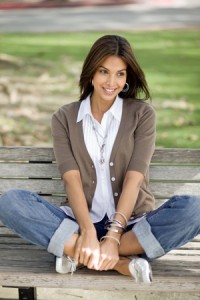 So here's the deal: we all want new summer clothes that are cute and appropriate for a multitude of occasions, but what to do when those clothes have a throw-away kind of quality to them? And I know this doesn't apply to everyone, but I happen to live in a city where it's warm for 3 months max, and our last snow storm was at the end of May, which means that summer clothes are often covered up with cardigans and sweaters. Thus, I want to update my summer wardrobe without breaking the bank and now I'm going to tell you how I did it.
I went to Mark's Work Wearhouse. Yes, I know. I am usually a Forever 21 girl, and I absolutely love Mendocino, Anthropologie, and Holt Renfrew for my more high-end finds, but this season I was introduced to how cute clothes at Marks Work Wearhouse can really be.
I think that my absolute favourite finds are cute cotton dresses from their CurveTech line. I have one in a maxi length, and one that comes to my knees. They come in a wide range of colours and prints, and even have a built-in bra so that you don't have to worry about your undergarments when you wear these. I got one in a casual grey colour and I throw a sweater on top when it starts to be colder than I like.
And don't fret, there's something for the men in your life too. In particular, encourage them to try out the Mark's Work Wear House Dry-fit line of clothing. It's like Under Armor but at less than half the price, and a friend of mine who tried it said that it works just as well as the more expensive brand.
All in all, I was super surprised at the offerings at Mark's. Obviously, they had capris and yoga pants that were more like what my mom might wear, but they also had tons of cute things that I liked. They also have amazing genuine leather totes. I didn't end up getting one because I wasn't in the market for a new purse, but they're well-priced and if I didn't know where they were from, I might have mistaken them for something from Banana Republic.
Going into the store isn't a luxury experience, I have to admit.  It's not well merchandised and many of the truly great finds are hidden between steel-toed boots.  But there are some great tops and dresses and they're good deals so worth looking for.