The latest trend in scents is that of a citrusy nature. With the weather getting nicer, and the days getting longer, it's only fitting that scents should be those that help us get into the spirit of going outdoors and enjoying nature. Citrus scents can be love/hate though – the last thing you want is to smell like lemon Pledge or another cleaner – so we've picked our favourite scents that have anything but the cleaner smell to them.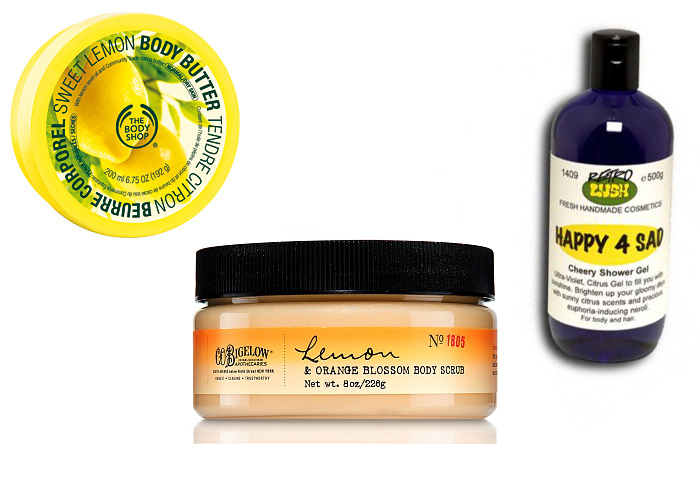 1. The Body Shop's Sweet Lemon Oil Body Butter. The Body Shop makes my favourite body butters. They rise above all their competitors because the body butters are soft and easy to spread, absorb easily, and come in so many different scents. They are perfect for daily moisturizing especially in the winter. The Sweet Lemon Oil Body Butter is no exception because it is lighter than most of the other body butters at The Body Shop but it still has some fantastic highly moisturizing ingredients in it. The Sweet Lemon scent reminded me of a lemon bar – the drydown had a touch of vanilla to it, but overall the scent seemed to fade pretty quickly into the day.
2. C.O. Bigelow Lemon and Orange Blossom Body Cream and Scrub. This sunny scented duo are more fruity smelling than most citrus scents and so are super easy to wear. I like that they don't smell like creamsicles or orange jube jubes – I find anything too sweet to be annoying. Instead think of walking through an orange grove and you've got this scent down. I like that the scrub is creamy yet clean-washing at the same time.
3. Lush Happy 4 Sad Shower Gel. This vintage shower gel is back on sale at Lush, and it smells citrusy but with a touch of cloves to it. It's definitely a different scent and one that you might have to get used to, but I still find it totally uplifting and fantastic to use daily. I love the spicy scent first thing in the morning!