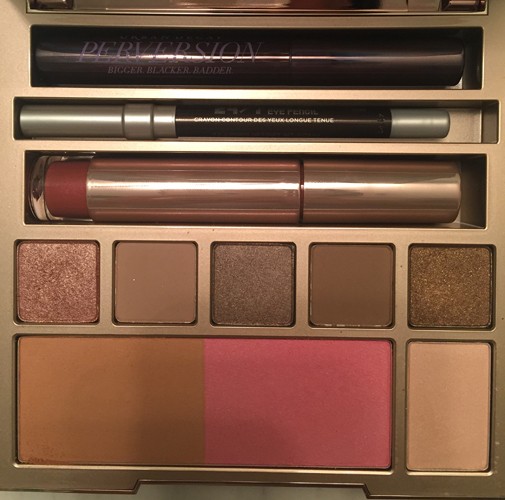 So I said that this palette was on my wish list, and truly, it was the only thing that was on the wish list, and so I'm so thrilled that I got my hands on it.
Needless to say, the palette in real life is different than the pictures, and all the eyeshadows included are all-new and limited-edition.
It has two shimmer shadows (Dive, a rose-gold, and Resist, which is a metallic taupe), two variations of matte brown to contour (Fix and Dare), and a super sparkly shimmery brown (Stun) for a more glam smoky eye.  There's no brush included, so if you're planning on doing contour on the eye area, or anything even remotely involved, you'll have to pack your own brushes if you're really going to take this on the go with you (like I do!)
The pink lip gloss is on the sheer side but beautiful and easy to wear.  The colour is Sesso which is a Rose with pink shimmer.  It's also a full-sized product, so if you run out of it, you can just swap in your own.
The eyeliner in Stag is not a true black, but more like an olive-like espresso with a hint of shimmer. It's not self-sharpening, so if your'e going for a longer vacay and use a lot of eyeliner, you're going to have to take your own sharpener with you.
The Perversion mascara is great because it makes lashes look full but I do find that it smudges in humid or warmer weather. The smaller size of the wand (because it's a travel-sized mascara) makes it easier to use and really get every single lash, including your bottom lashes.
I really wish they had included a mini primer potion in this kit, because that's something that I had to pack separately.  It works really great with Urban Decay eyeshadows, because I find that their shadows are so emollient that they don't last as well as some other brands.
The bronzer and blush are on point.  The bronzer is truly matte and works well to contour (I use my favourite Nars contour brush), and the blush is pigmented but lets skin show through too.  The blush is a very bright pink with some shimmer, but when I applied it, the shimmer was not very visible.  It will work great with a tan or can be applied sheerly on fair skin.  The highlighter is pretty amazing too – sheer and pretty much impossible to overdo.  I just use my fingers to smudge and tap it into my skin and it works great.  That colour is actually one of their eyeshadows in an all-new colour, 5050, and works well as an all-over shade and makes it easier to blend all the other shadows on top.
The best thing is that all the colours work so well together that this has turned into a daily palette for me, rather than one just to use #NakedOnTheRun.
The palette is limited edition, so if you don't get it now… you'll have to wait to see if they're going to make more of them and release them again.
$54 at Sephora, sephora.ca, and selected Shoppers Drug Mart locations.  This is definitely on my best of 2014 list!  Get it while you can!