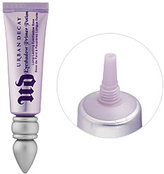 I was perusing the Sephora website today and look what I found?!  Urban Decay's Primer Potion has been repackaged into a typical tube!  This is huge news for people like me who use the Primer Potion on a regular basis!
Let me explain: for the longest time, Primer Potion was a cult favourite because it really makes eyeshadow stick to your eyes.  It's the best primer out there and the original one.  The only problem was that the fancy tube meant that you couldn't get all the product out.  What people were doing was taking the tube apart, scraping out the Potion stuck to the sides of the tube and putting it into a pot so that they could get value for money.  It was the only way to get all the product out.
Now, the product comes in a tube, so you squeeze out just enough of the product.  It is available for all the 4 colours of the Primer Potion.  The Sephora website says that this is a Sephora exclusive, and that it's only available for a limited time.  I have a feeling that they're testing it out, and if it really takes off they might keep it around.
I, personally, like the original Nude colour the best.  I find that Greed, Sin, and Eden (the shimmery versions) just don't last as long on the eyelids, and they crease really easily.
If you haven't tried Primer Potion, you are missing out.
Get it at Sephora.