…but don't worry, the formula stays the same!
What's new is the packaging and some additions to the line.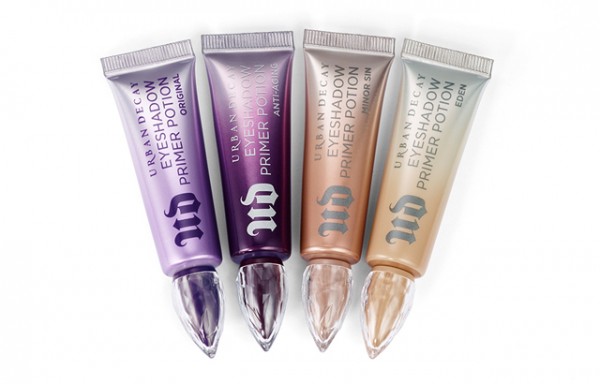 When Primer Potion first launched it was the only real eyeshadow primer on the market that worked.  The primer set on the lid and made eyeshadows stick and last a long long time.  The only thing that makeup professionals complained about was the packaging: when the wand stopped picking up product from the hourglass shaped tube, there was still tons of product inside.  One hack that I used to get out all the excess product was to take off the vacuum-sealing at the opening of the bottle so that the wand was free to scoop up more product.  People also cut the bottle in half and then depotted any remaining primer potion into a different container.
Urban Decay then changed the packaging to a squeeze tube and made it available in a larger bottle – although I have to say that my Primer Potion lasted me a good two years before I ran out of it, so I didn't need the larger bottle.
Now, they've come out with the perfect compromise.  The new tube is a squeeze tube but it's also got a wand applicator so that you can choose how you want to use the Primer Potion.  I tried the new packaging and yes the formula is still as good as ever!  My preferred method is still the wand, because I dab a tiny amount on to my lids, and then use my fingers to blend it in.
They've also included a new shade: Minor Sin which has less shimmer than the original Sin shade.  To be honest, I have Eden and Sin Primer Potions and I found that for some reason they didn't work as well as the original.  They're beautiful on their own, especially if your lids aren't oily and you don't really need an eyeshadow primer, but they don't make a great base for eyeshadow.
Urban Decay is available at Sephora and Select Shoppers Drug Mart locations.  Primer Potion is $20-$24.