If you're like me, you prefer not making too much of a big deal out of certain special occasions.  Anniversaries and birthdays are great, and they're a time to spend with your loved ones, but going above and beyond… not my style.
I kind of think along the same veins when it comes to Valentine's Day – it's just another day – but I'm totally into the Valentine's Day products.  It's mostly because it's a time to revel in the floral scents that I love so much, and a chance to pamper yourself a little more.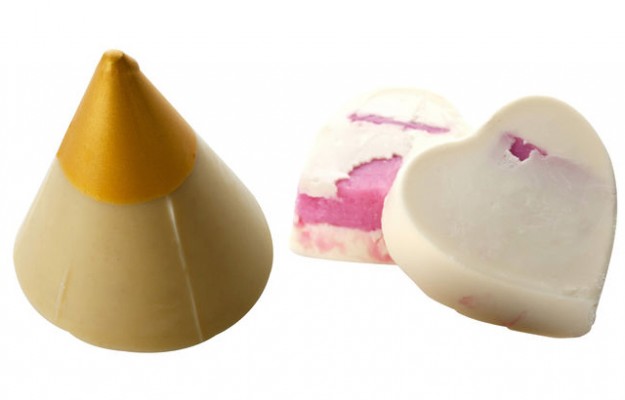 Of course, Lush can help on that end, and if you walk by their store, you need to check out their limited edition massage bars.
The two out this year are From Dusk Till Dawn, and Tender is the Night and these two are the last word on pampering yourself at home.
From Dusk Till Dawn has essences of citrus in it to wake you up and help you be more alert.  The cone-shaped massage bar fits easily in your hand and melts on contact with skin.
Tender is the Night is a heart-shaped bar that is actually more like a body butter because it's already soft and spreadable even before you have it in your hand!  The massage bar is made of aerated shea and murmuru butters so it melts right in your hands and becomes a pretty oil to rub all over.  The jasmine, ylang ylang, and vanilla perfume is super strong but also very feminine and pretty.
Pick up either for $7.95 at your local Lush store – they are both limited edition.