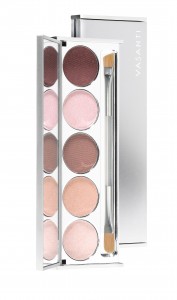 Vasanti Cosmetics is quickly making a name for itself as top-of-the-line products that come in new colours each season.
I am a huge fan of their 24/7 eyeshadow palettes because they give you 5 shades that all work so well together, and range from light to dark so that you can use the palette for day or night. They are especially good for traveling with because the darkest colour can usually be used as a liner, and it also comes with an actual eyeshadow brush (not the foam kind) so that's once less thing that you have to pack.
This season, their palette is called Manhattan and has pale golds and pinks as well as a darker copper colour that you can use in your crease or as a liner. The palette retails for $40 which is a great price for 5 eye shadows.
Vasanti Cosmetics are available at select Shoppers Drug Mart and Rexall Pharma Plus locations and online at Amazon.com and VasantiCosmetics.com.