My skin loves vitamin C and it is proven to be a powerful antioxidant and helps in boosting collagen in your skin. If you're over 30 and find that your skin isn't as bouncy as it used to be, you might want to consider adding this to your skincare regimen. It's great for use in the morning for sure, and sometimes I also use it in the evening if I'm not using a retinol in my skincare routine.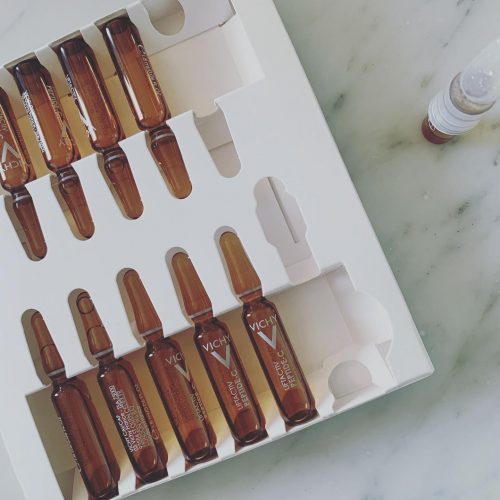 I just got Vichy's Liftactiv Specialist Peptide-C Ampoules which are filled with a light serum of peptides and 10% vitamin C.  Vitamin C in this concentration is a powerful collagen-boosting ingredient and also helps protect skin against environmental damage. The serum is packaged in ampoules because vitamin C is a highly reactive ingredient that doesn't stay stable after it's exposed to light and air.  Packaging such as the ampoules keep the vitamin C more stable because you only open one ampoule at a time, and each one has enough serum for 2 uses.  There will be enough vitamin C for your face, your neck and your chest, for morning and evening, in each ampoule.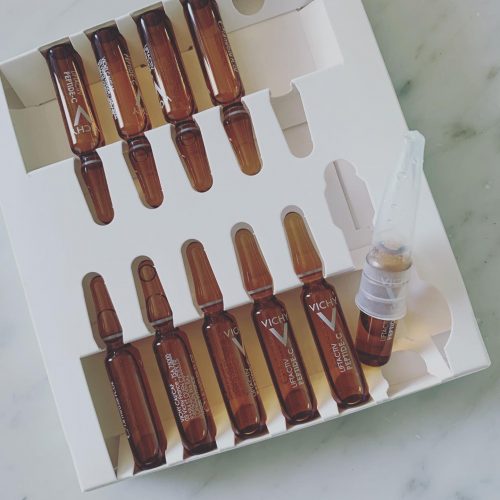 The serum is light, non-greasy, and absorbs into your skin within 30 seconds.  It's a great delivery system and really preps your skin for whatever moisturizer or sunscreen you're using next.
Here's how it opens.
Each package comes with 10 ampoules, which is 20 doses of vitamin C peptide serum for your face.
Available at drugstores and online.  $39.95.